Vodafone Essar announced on Thursday that it has achieved a landmark 100 million subscribers in India. The pan India operator became the third to achieve this milestone in the country. The first operator in India to have achieved it is Bharti Airtel, which counted 100 million wireless subscribers in May 2009 and had a wireless subscriber base of more than 124 million at the end of February this year. Reliance Communications achieved the feat recently in March.
Vodafone had a subscriber base of more than 94 million at the end of January and more than 97 million at the end of February.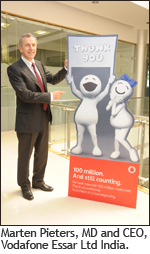 The achievement makes Vodafone the fifth operator in the world to serve over 100 million subscribers in a single country. The company also claims to have strengthened its position as India's second largest operator in terms of revenue.
Marten Pieters, managing director and chief executive officer, Vodafone Essar, said in a press statement, "This is a significant achievement for us and reflects the trust customers have bestowed on the company."
He also added that the company had invested over Rs 20,000 crore to expand customer service in India.
The company is present across all telecom circles and has surpassed the 100 million customer base. The press release stated that around 60 per cent of the operator's subscriber additions now come from upcountry areas. It also has a distribution reach of about 1.2 million outlets.