Vivo is expected to launch its Vivo X21 smartphone with in-screen display fingerprint sensor on March 19. Now the smartphone has been spotted on a GeekBench benchmarking website with model number Vivo X21 UD. The model number hints that the device might feature an under-display fingerprint scanner. The listing has spilt some beans on the expected specifications of the upcoming smartphone.
In the GeekBench listing first spotted by My Smart Price, the Vivo X21 got 1608 points in single-core test and in multi-core test it received 5852 points. As per the listing on Geekbench, the Vivo X21 has 6GB RAM and Qualcomm Snapdragon 660 1.84 GHz octa-core processor. The handset is based on the Android 8.1.0 Oreo operating system. The phone is said to come in multiple variants and the one seen on Geekbench is the variant with an under-display fingerprint scanner.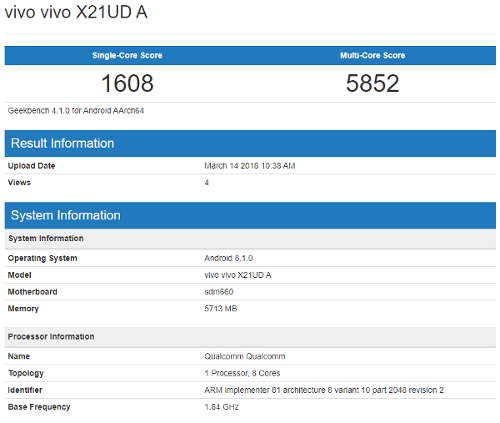 There is no information about the pricing and other hardware details of the device as yet. However, given the fact that the launch date is not too far off, we will come to know the details once the device is officially announced on March 19. So we request you to stay updated on our website for the same.
Vivo has already announced Vivo X20 Plus UD, which is the first phone to feature an in-display fingerprint scanner and Vivo Apex Concept smartphone with a half-screen under-display fingerprint sensor.
Talking about Vivo X20 Plus UD, the latest smartphonecomes with Synaptics Clear ID 9500 in-screen fingerprint sensor. The sensor is placed between the OLED display and the mainboard. Smartphone makers have long struggled to bring out in-display fingerprint scanner. With Vivo finally managed to crack the code, the path is now set for others to follow.
Vivo Apex Concept smartphone, on the other hand, features world's first Half-Screen In-Display Fingerprint Scanning Technology, which is built on the success of industry's first mass-producedin-display fingerprint scanner introduced with X20 Plus UD. Through this, the entire bottom half of the OLED screen present in the phone transforms into a fingerprint sensor, which allows users to touch anywhere on the bottom screen to unlock the device. Half-Screen In-Display Fingerprint Scanning Technology also enables new usage scenarios, such as the new dual-fingerprint scanning feature in Apex for even greater strengthened security.