Google's popular feed assimilator service, the Google Reader has been available in the form of an application on Android for quite some time now.
But there were certain features that were not liked a lot by the users and it was also found lacking some essential features.
In a bid to fix these, Google has now rolled out an update for the Google reader application on Android.
The new update gives a new look and feel to the application which assists smartphone users to read the content comfortably.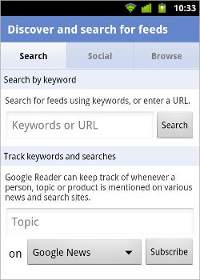 The updated application now features new buttons at the upper right of each post making it easier for the user to share or put a star mark on any post in the feed. Also the new application features the "Mark Previous as Read" feature as well; users need to press and hold on a post to use this feature.
Along with this, the new application brings along support for all Android based tablets as well. So tablets running on Honeycomb will not have to use the smartphone optimised version any more as this new version will bring complete compatibility for tablets as well.
This update requires an Android OS 1.6+ device and works wherever Google reader application is currently available. You can download Google Reader on your Android device manually or from the Android Marketplace.
Alternatively, you could follow this link.
Link:-
https://market.android.com/details?id=com.google.android.apps.reader&feature=search_result
Image credit droid-life