Last month, Google rolled out an updated version of Android Market app for devices with Android 2.2 Froyo and above operating systems. And now Google is again back with yet another upgrade of the app with some real nifty upgrades and improvements.
Google has added the much awaited Automatic update for all application in the new version. With this feature, the Android Market application will automatically set all the applications on auto update mode and no user discretion is required.
Along with that the much awaited voice based search has also been added to the search widget so users can actually speak to their phone and ask it to download applications.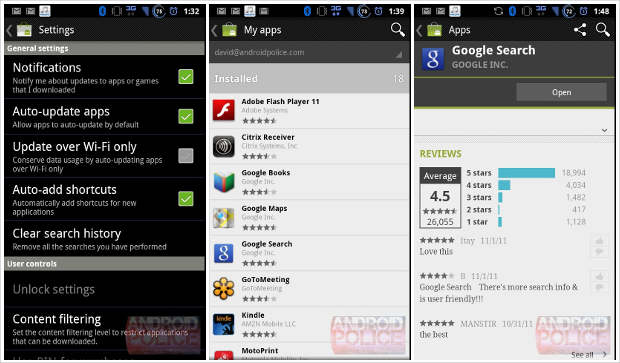 Another neat update or addition to the Android Market application is the addition of the WiFi only upgrade path that allows users to conserve GPRS or mobile bandwidth by updating and downloading apps over WiFi only as default. Secondly, the new application can now be selected to automatically add shortcuts to the home screen for the newly installed applications as well.
From the previous update, the PIN (Personal Identification Number) authentication for application or content purchases via the market application has been continued. This prevents accidental purchases or rather will minimise them especially when the movies and other content are also starting to be featured on the Android Market.
The application update is available via Over the Air only and the notification will appear on your device as soon as the application is available for your device and the particular region. If you are amongst the ones who cannot wait any more for laying your hands on the file then you can use the third party link mentioned below. But beware it's an external (3rd party) link and The Mobile Indian does not provide any sort of guarantee or warranty with this link. We have tried the application ourselves and it works perfectly fine.
Presently the application will only work for smartphones running Android 2.2 and above.
Image and download link credit: Android Police