Ubuntu mobile operating system based tablet(s) is expected to be launched today.
Canonical, company behind Ubuntu, has put up a countdown on its website that runs out at 9.30 PM Indian time today. The countdown also carries a message that says, "Tick, Tock Tablet Time!".
Obviously, the company is referring to a tablet based on the Ubuntu mobile operating system.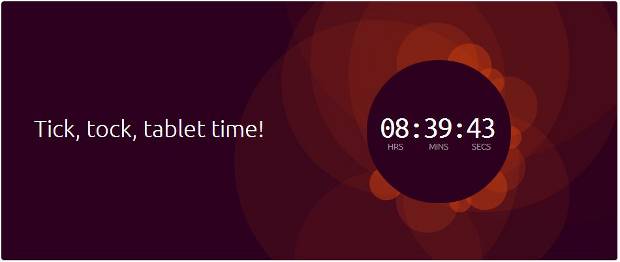 The OS was unveiled earlier in January this year when its makers have promised to bring tablets and even TVs based on the operating system. Notably, the Ubuntu OS is targeted at entry level phones and high-end smartphones, so the tablets might be carrying a tablet optimised version of the OS.
The Ubuntu for Phones comes with an innovative user interface that aims to make use of all four sides on a typical touchscreen smartphone. The Ubuntu OS for phones will also drive its own App Ecosystem comprising of native as well as HTML5 based web apps.
This mobile operating system has been developed based on Android and Linux Kernels but does not run a Java Virtual Machine. The Ubuntu for Phones supports the ARM and x86 microprocessor architectures.
To run the Ubuntu for Phones, the entry level devices need to have a minimum of 1 GHz Cortex-A9 based mobile processor, 512 MB RAM, 4 GB on-board storage with support for SD Card, and it should have multi-touch support. The interested handset makers can play around with these specifications to add up bit more muscle to a particular device.
Meanwhile, the high-end Ubuntu smartphone has minimum hardware requirement of quad-core Cortex-A9 or Intel Atom microprocessor, 1 GB RAM, 32 GB on-board and micro SD storage support, multi-touch support and desktop convergence.