Research In Motion has announced yet another update of its Twitter application for BlackBerry smartphones. With this upgrade the Twitter application on BlackBerry smartphones will acquire V2.0 beta status and a host of cool new features that have been developed mainly based on inputs or feedback received from consumers for the Twitter application V2.0
The list of changes that this update brings is not small and includes a visual upgrade, also called Color Refresh. This update features a lighter colour scheme consisting of light blue with a shade of white. This new, smooth colour scheme makes it easy to follow where you are in the time-line and has been incorporated throughout the app.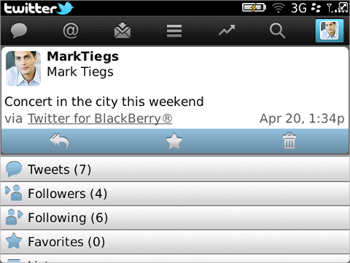 In the new application, the tweet composer is hidden from the timeline by default, but is accessible from the new Compose Tweet bar located below the navigation bar, which is at the top of the timeline. Alternatively, you can tweak the menu settings to display the tweet composer as a static fixture at the top of the home time line, as it is displayed in Twitter on-line.
My Profile and Local Trends have also been added to the new application. Local Trends keeps the user updated with the trends in the geographical area he is in by tracing his location through mobile network information on the BlackBerry smartphone.
The new Twitter update is currently available at BlackBerry Beta Zone. To download the latest beta version you first need to register to become a BlackBerry Beta Zone member.