Twitter has announced that it will begin testing to increase the character limit from 140 characters to 280 characters for tweets for the first time since its launch in 2006. The micro-blogging site said that it will begin a test with a small group before making a decision to launch the new character limit globally.
"We're going to try out a longer limit, 280 characters, in languages impacted by cramming (which is all except Japanese, Chinese, and Korean)," the company said in a blog post. Interestingly, the brand says in languages like Japanese, Korean, and Chinese you can convey about double the amount of information in one character as you can in many other languages, like English, Spanish, Portuguese, or French.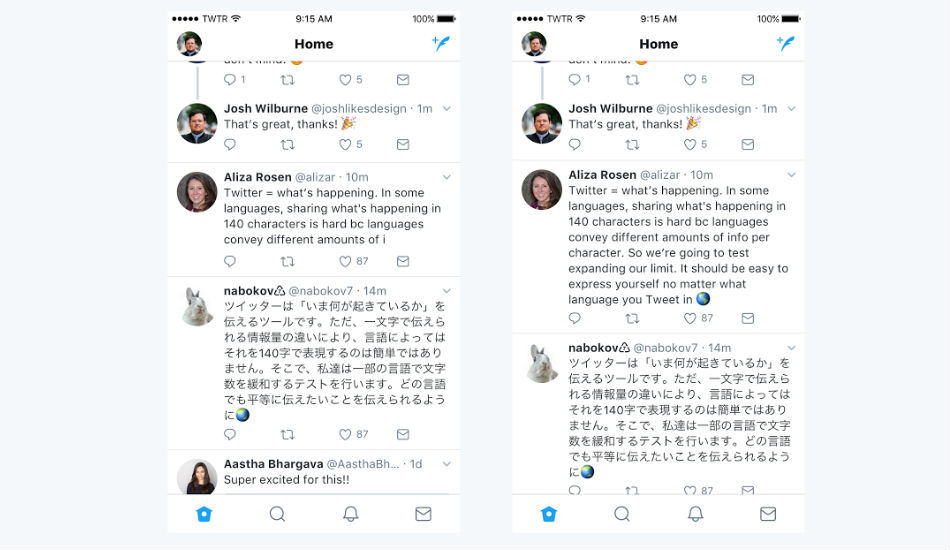 The company says that only 0.4 percent Tweets sent in Japanese reached the 140 characters limit, but in English, the percentage was much higher with 9 percent. Twitter says that most Japanese Tweets are 15 characters while most English Tweets are 34. "Our research shows us that the character limit is a major cause of frustration for people Tweeting in English, but it is not for those Tweeting in Japanese," the company added.
Previously, Twitter announced that it will not count @usernames within the character limit replies. Beginning Thursday, the changes will take effect, giving users more space to vent, pontificate, share or discuss their views, as the case may be.
The microblogging site also stated that the username will appear above the tweet text rather than with the tweet itself, so one has more characters to have conversations. For this, one can tap on "Replying to…" to easily see and control who's part of his/her conversation. The new update will be rolling out now on twitter.com as well as on Twitter for iOS and Android.