Several weeks after rolling out a pitch-dark night mode for iOS users, Twitter has now announced an update to its Retweet feature. Starting today, users will be able to add photos, videos, GIFs instead of just texts when retweeting a tweet.
The new feature is rolling out to all Twitter mobile users on iOS, Android and mobile website, though it's yet to be featured on Twitter's desktop interface. Starting today, users will be able to react to a tweet with more than just plain text and add photo, video or GIF when sharing an original tweet.
Exciting news: Today we are launching the ability to Retweet with GIF, photos, and video!

We find solutions to many challenges as we build for a global, vocal audience. Here is a glimpse into our process as we worked on this feature. https://t.co/PUMr9DRQ0K

— Twitter Engineering (@TwitterEng) May 6, 2019
Twitter says though the feature was relatively simple, it took longer than expected time because it was challenging to differentiate between the original tweet and the retweet as both of them could now feature media inside them. Moreover, two media-filed tweets stacked on top of one another would mean fewer tweets on screen at a given time.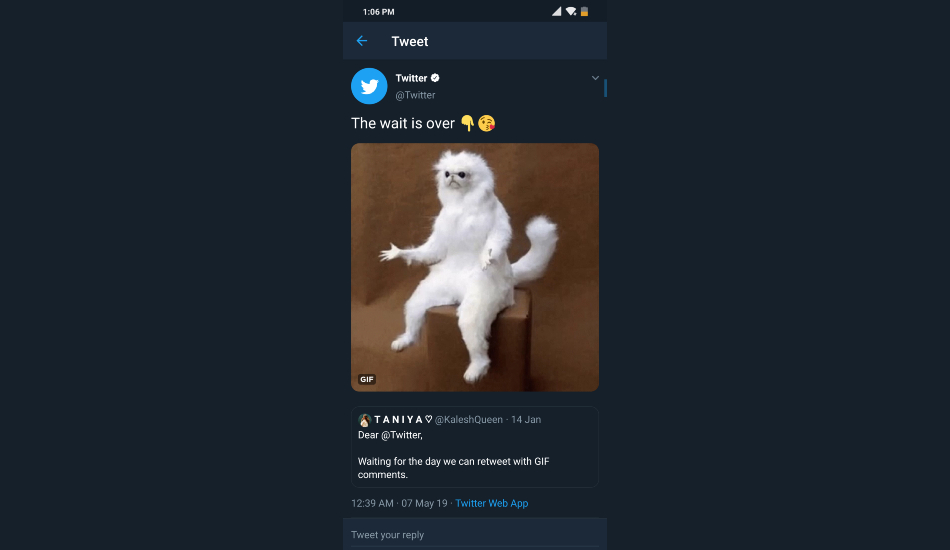 As a solution to this problem, Twitter will now put the original tweet in a smaller box with user's picture visible above which the retweeted content full with media and GIFs will be made visible to others. The result will look something like the image above.
The latest retweet feature is available through the Twitter app on Android and iOS as well as Twitter mobile site. There's no word on when the feature will be added to the desktop.