Since Elon Musk took over Twitter, the platform has undergone a number of changes and while some features have stayed, some have been discontinued. Now, the Twitter owner is all set to unleash Twitter 2.0 with a bunch of new features, the list of which has now been announced. Here's whats coming.
Twitter stats after Musk took over
Musk took to his platform to make a bunch of announcements, including the fact that the firm has once again started recruiting. Apart from that, he said that new user sign-ups are at an all-time high with over 2 million users creating account on the platform per day.
He also said that user active minutes were at a record high as well, averaging nearly 8 billion active minutes per day in the last seven days as of November 15. This is an increase of 30 percent in comparison to the same week last year.
Hate speech impressions are lower this month, compared to October of last year. Lastly, he says that reported impersonations on the platform spiked earlier this month in wake of the Twitter Blue launch and before that as well, and then ultimately fell.
New features coming with Twitter 2.0
Further, Musk announced a bunch of features which will be a part of Twitter 2.0: The Everything App. As per Musk, advertising will now be a part of entertainment so its a win-win situation for both advertisers and users. Next, the company will be focusing more on videos with presumably improved quality and higher length limit.
Further, the Direct Messages (DMs) on the Twitter app will now be encrypted for more privacy. In other words, not even Twitter will be able to read the messages you exchange with someone. Next, there will be addition of long-form tweets. Musk has hinted about the same previously and it seems like the feature will be making its way to the app soon.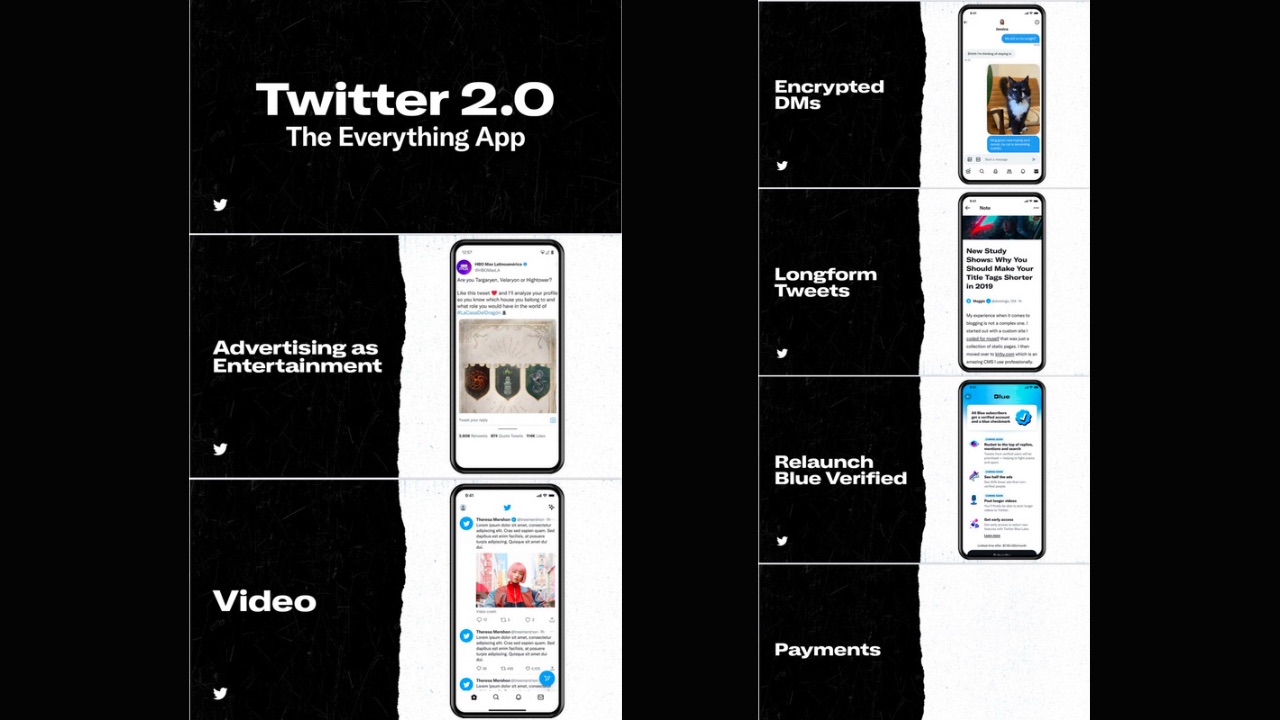 It is expected that you will be able to attach a note to the tweet explaining the context and anything else regarding the tweet if you want to. Further, Twitter Blue relaunch is also a part of Twitter 2.0. Musk confirmed that the relaunch will take place on December 2, with a revamped verification system once again.
There will be a Gold checkmark for companies, grey tick for government, and a blue one for individuals (celebrity or not). Further, all verified accounts will be manually authenticated before check activates. He previously stated, "Holding off the relaunch of Blue Verified until there is high confidence of stopping impersonation," a few days ago. It seems like this is the solution he has come up with, to stop impersonations.
Lastly, Twitter 2.0 will also bring payments to the platform. It is unconfirmed as to how this would work but we should be seeing traces of the feature in the upcoming weeks or months.