The 2018 model of Triumph Tiger 800 has been announced for India. The bike comes in three variants: the base model (XR) is priced at Rs 11.7 lakh(ex-showroom) while the XRx and the XCx variants to cost Rs 13.1 lakh and Rs 13.7 lakh (all-prices, ex-showroom India) respectively.
As per the company, the new models come with 200 updates including tweaks in styling, aero diffusers, full-LED lights on top-spec models (XRx and XCx in India), new backlit switchgear, adjustable screen, revised engine, transmission, an additional riding mode for the top-spec variants, and a host of other technical upgrades.
The new Tiger 800 comes with an 800 cc engine that offers 94 bhp power at 9500 rpm and 79 Nm torque at 8000 rpm. It has six speed gearbox that said to offer better off-road traction and improved low-speed response and acceleration. The bike has a lighter and smaller exhust system than its predecessor. The XCx model comes with a 'Off-Road Pro' riding model. Also, the bike comes with optional ABS mode which can be switched off.
In the XR models, Triump is offering alloy wheels and road tyres but in the XC model, you will get spoked wheels. Here is a snapshot of their important features: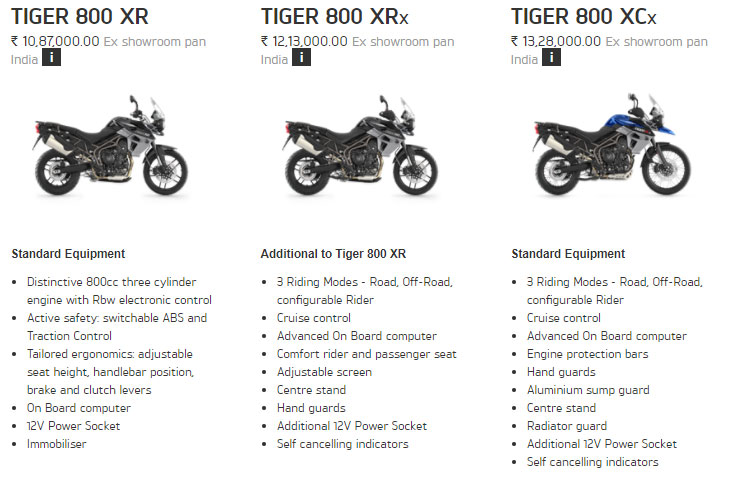 Curiously, internationally, there are six variants of Triumph Tiger 800 but the company choose to launch just three models in India.
Meanwhile the comapny said that it is thinking about assembling its motorcycles in India itself rather than importing fully-built models from Thailand after the government imposed a hike of customs duty on completely knocked down automobiles.