In most developing countries, mobile health (m-health) applications are being developed to target rural mobile phone users who do not have access to medical services.
In developed countries, however, people use mobile health applications for much more than just medical treatment. They use apps when they're expecting a baby, or to keep track of appointments with the doctor, and to maintain medical records or count the calories they're consuming.
Android, one of the most popular mobile operating systems, also offers an array of m-health applications that it regularly updates.
Here we have listed the top five free and paid m-health applications available on Android Market.
Top five free applications:Instant Heart Rate –This application can measure heart rates using the phone's built-in camera. A user needs to place his finger gently over the camera and hold it steady for at least ten seconds for the application to display his heart rate on the phone's screen.
Calorie Counter by FatSecret – The tool helps users to get calorie and nutrition facts for the foods they eat, and enables them to maintain a food diary.
Calorie Counter by MyFitnessPal – This application is similar to the calorie counter by FatSecret. It has a database of over 590,000 foods of different types, and helps users to keep a count of calories.
Animated Sex Positions – This app for adults comes with over 72 sex positions from the Kamasutra.
JEFIT – Designed by bodybuilders, JEFIT is a workout planner with hundreds of exercises. It helps users to maintain workout logs, synchonise workout progress with a personal computer, use charts for tracking workouts etc. The application also has features such as customisation of workout routines and two-way synchronisation.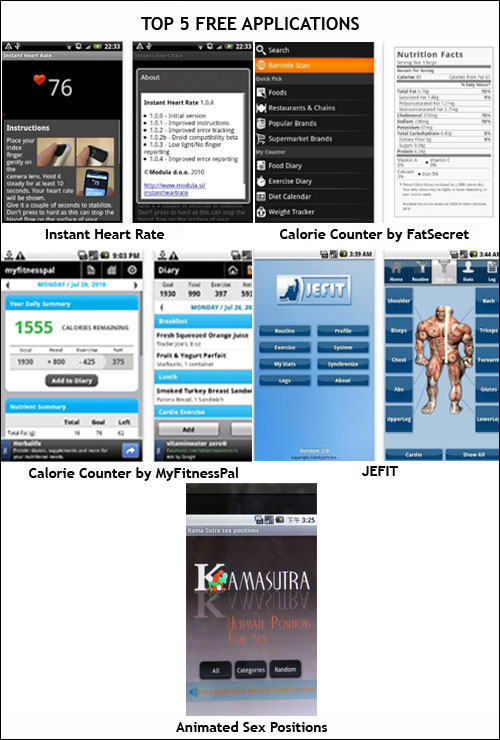 Top five paid applications:
Baby ESP – Developed by Hewitt Software, the app can be used to track when a baby eats, sleeps etc. Users can maintain charts about their babies' daily activities and can set reminders as well. Baby ESP also enables synchronisation of multiple devices. The application can be tried free of cost for 7 days and subsequently costs Rs 179.
Menstrual Calendar Premium – This application can be used to track periods and body temperature. It comes with a customisable calendar with icons, customisable symptoms, ovulation, cycle report, basal body temperature chart (to record the lowest temperature attained by a body at rest/sleep,) and forecasts the next menstruation and ovulation. Menstrual Calendar Premium costs Rs 173.
White Noise – Developed by TMSOFT, which makes mobile applications for the iTunes app Store, Android Market, BlackBerry AppWorld and Windows Marketplace. White Noise features 40 ambient sounds to help the user relax or sleep. It comes with an audio background service, sound shutoff timer, multiple alarms, sound controls, and high quality sounds such as ocean waves, rain storms, running stream etc. White Noise is priced at Rs 89.
CardioTrainer Pro – This application allows users to track their exercises with GPS and a calculator etc. It offers voice training for weight loss and advanced interval training at 20 levels. The application comes with a 30-day money back guarantee and has been developed by WorkSmart Labs Inc. It costs Rs 449.
ICE (In case of emergency) – ICE provides information for paramedics or hospital staff to use in case a mobile phone user has an accident. It keeps a database of the names of people to call during emergency, insurance information, doctor's name and number, allergies, medical conditions, medications and special instructions. It is available for Rs 180.