Befre we start out here, I guess we should add a disclaimer. If you have brought a TV in the past 3-4 years, and are now itching to 'upgrade' because it is not smart enough, perhaps you ought to extend the life of your TV by going for the Amazon Fire Stick, the Chromecast or any of the other options in the market, that are effectively, the cheap and quick way to upgrade to full functioning 'smartness'.However, if you are looking to really move on, read on.
After starting off the first half of the year on a relatively quite note, the Television market in India has finally seen some innovative products from the likes of Samsung and Sony in the last couple of months. Shortlisting top offerings in Television industry often leads to a list of some insanely expensive TVs with all the features which a TV can probably offer. However, the audience for these products is very niche, hence, today's list of Top 5 TVs in India will not only concentrate on the features but also the money you spent for them.
Samsung Curved QLED series (55Q8C)
Rs 329.900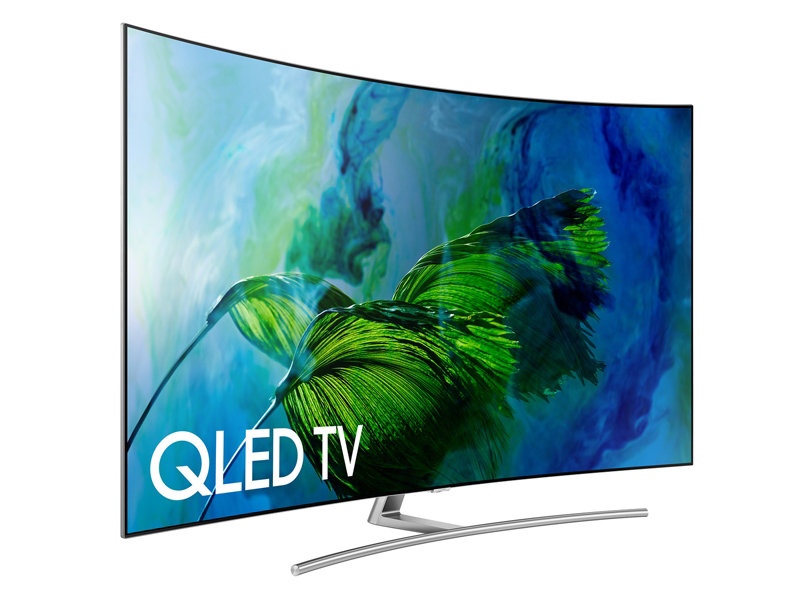 First up in the list is Samsung's recently launched QLED series which was first unveiled at this year's CES 2017. Launched in India back in May 2017, the new QLED series of curved televisions from Samsung delivers a jaw dropping performance with its Quantamm Dot Technology. Taking up the model 55Q8C which is priced at around Rs 3,44,900, the South Korean giant has kind of redefined the television world with its new Q series. This 55-inch model comes with an Ultra HD or better known as 4K curved display with a resolution of 3840 x 2160 pixels. The refresh rate in this one is 200 Hz with video capabilities like HDR (High Dynamic Range), Auto Depth Enhancer, Micro Dimming, 360 Video Player etc. For the audio, Samsung has given in 4 speakers throwing an output of 60 watts with additional built-in woofer coupled with Dolby Digital Plus. In the connectivity department, everything is handled through the 'One Connect' box which is connected to the TV via thin wire complementing the aesthetics of the TV. We get 4 HDMI ports, 3 USB ports, 1 Digital Audio Out, 1 composite Input and Output port, built-in Wi-Fi, Bluetooth etc. The new QLED series TV from Samsung is also a smart TV. It is powered by a Quad-Core processor and can handle your regular web browsing activities, YouTube etc seamlessly. Inside the whole package, you get the TV itself, One Connect Remote (TM1970A), a no gap wall mount, a Vesa wall mount, Samsung smart control, E-manual, Power cable and Slim Gender Cable which connects the TV to the One Connect box. The 55Q8C measures at 1225.3 mm x 705.7 mm x 90.8 mm without any additional wall mount or stand. You also get 1-year warranty for the whole product and 1-year additional warranty for the panel.
Sony Bravia OLED KD-55A1
Rs 3,60,000 nd above

If Samsung isn't your brand, then Sony's latest OLED A1 series of TVs should surely fill the bucket of your satisfaction. Taking the 55-inch here as well model i.e. KD-55A1, this piece of tech is a marvel in its own right, especially when we talk about aesthetics. The whole classic design wraps around a 55-inch Ultra HD (4K) 3840 x 2160 pixel resolution display which also resonates rich sound supporting Dolby Vision as well. In other words, the TV has no real physical speakers rather the screen vibrates to create the sound to enrich the whole user experience. The display also supports HDR, meaning you get deep blacks, authentic colour, blue-less image and a wide viewing angle. The new A1 series from Sony also comes with 4K HDR Processor X1 Extreme, which has 40 percent more real-time image processing than its predecessors (4K processor X1). Then there is Triluminos display, which the company claims give a wider palette of colours and more natural shades and hues.
In terms of connectivity, the TVs support 4 HDMI ports, 3 USB ports, 1 RF connection input, 1 composite video input, one analogue audio output, one headphone jack, one Ethernet port and one subwoofer port. And being an Android TV running on Android 7.0 Nougat straight out of the box, it comes with a voice search functionality similar to what we get on our smartphones. Inside the box, we get a Table Top Stand, Voice Remote Control, AC Power Cord, Batteries, IR Blaster and user manual. The TV measures about 1228 x 711 x 86 mm without any accessory and come with 1 year of manufacturer warranty. The 55-inch model is priced at Rs 3,64,900 while the 65-inch model will cost you Rs 4,65,900.
LG LED 55UH850T – Rs 1,55,990
LG has been struggling in the TV segment lately, however, it's 55UH850T seems to be a decent buy for the price. As mentioned, top 5 TVs are not just about highest specifications with no price barrier, hence, LG's 55-inch UH950T model is priced at around Rs 1,55,990. Coming in with an Ultra HD (4K) 3840 x 2160 resolution, this variant is also a Smart TV. The TV runs on webOS 3.0 and has its own Launcher, Voice Recognition and built-in App Store. The display offers various features such as 3D colour mapping, Dolby Vision and a refresh rate of 200 Hz.
For connectivity, LG has given 3 USB ports of which one is USB 3.0 and two are USB 2.0 . Besides, there is 1 headphone jack, 1 composite Input Output and 3 HDMI ports. To complement the beautiful video output, LG has also fitted 2 speakers which blow an output of 40 watts along with Dolby Digital Decoder and a Subwoofer. A bunch of other interesting features include Motion Eco Sensor, Intelligent Sensor etc.
Inside the box, there is a TV unit (Of course), Remote Control, User Manual along with 2 3D glasses. Yes, we almost forgot, this TV also supports 3D video output with 3D depth control, 3D image correction and even 3D sound zooming. For space it will take up on your wall, this TV measures 1239.8 mm x 720.8 mm x 51.5 mm and weighs 19.2 Kgs. You also get 1 year of LG India domestic warranty.
Panasonic TH-55DX650D – Rs 1,29,999
As we move down to a lower price range, another player which still holds a decent amount of market share in the TV industry is Panasonic. Priced at Rs 1,29,999, Panasonic's TH-55DX650D is another worth looking bank for the buck option in today's list. Starting with the display, as usual, we get a 55-inch Ultra HD (4K) 3840 x 2160 pixel resolution display with pretty thin bezels and a classic designed table top mount. Being a Smart TV, this model will also serve as your daily doze of entertainment. The connectivity options include 3 HDMI ports, 2 USB ports, built-in Wi-Fi and all the standard ports including an AV In and Out port, a headphone jack etc.
Complementing a display with 1000 Hz refresh rate are 2 speakers which give you an output of 20 watts RMS. Inside the whole package, there is the TV unit along with a remote control, power cable, user manual, warranty card, a wall mount and batteries for the remote. Panasonic is offering a 1-year domestic warranty which does not cover external accessories like battery cable, carrying bag etc. Although this doesn't come even close to what some of the TVs in the list offers, it still does the job for an extremely attractive price. If you are wondering about the total size of this TV, it measures 1244 x 69 mm (Width x Height).
Vu 50-inch LEDN50K310X3D – Rs 50,999
Throttling down the price, even more, the Canadian television manufacturer – Vu has managed to make it to our top 5 list yet again. This particular 4K TV is probably cheapest in the lot with similar features to the ones listed above. As is the case with every Vu Television in the market, inside the box, we get 1 TV unit, a remote controller (with batteries), Power cable, User Manual, a Wall Mount along with the mounting bracket and a Table Top Mount as well. We get 50-inch LED display on this one sporting a 4K resolution i.e. 3840 x 2160 pixels. To ensure a premium viewing experience, Vu has given in an Ultra High Definition Panel, OSD Transparency Control and 1:1 Pixel Mapping. Apart from coming with a 4K resolution, this model is also a Smart TV. Vu has given in its own Smart OS along with an option of Miracast, Opera TV Store, TV Web Browser, Facebook, Picasa, Smart Features. For the audio, we have 2 speakers which are capable of an audio output of 20 W (RMS) along with Dolby Digital audio technology. In terms of connectivity, we get 4 HDMI ports, 3 USB ports, 1 headphone jack, 1 digital audio output, 1 RF In and other basic ports. The TV measures at 1118 mm x 655 mm x 82 mm and weighs 14.3 kg (without any sort of accessory). Lastly, we get 1 year of Vu domestic warranty for this model.