There has been some talk that Google Chrome's functions will be merged with similar services on Android. Chrome is meant for desktops, and runs right off the internet; While Android is a predominantly offline OS for smartphones and tablets.
Speculating about the reasons for Chrome's failure, Paul Buchheit, the creator of Gmail and a former employee of Google says there is no task being done by Chrome that is not done better by Android.
Open source computing veteran Richard Stallman meanwhile told the Guardian that being completely dependent on cloud computing means voluntarily giving up all control over one's data. Besides, one cannot be on the internet all of the time.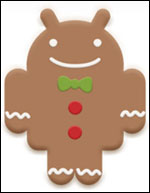 The issue could to some extent be sorted if it were possible to backup data from cloud based apps to a predominantly offline platform, or from Chrome to Android.
For now, Google is doing just this with its Google Chrome to Android extension, which was introduced at the recent Google I/O conference. The Extension is a cloud to device Messaging service which comes with Android 2.2. Users can send interesting links they come across from their computers to their mobile, to be able to browse these links while moving around. It's also possible to send links to someone else's Android device also. A similar service could in general be used to take back up of data from cloud based platforms to one's mobile device.