Apple is quietly working to take the iOS eco-system – devices, software and accessories to next level with the next iPhone. A third party Apple component vendor eTrade Supply posted a video of next iPhone back panel and revealed the new 19-pin connector at the bottom of the panel. In that video, the trader compares the next iPhone back panel with the iPhone 4S to show the physical changes in the connector.
Apple seems to be bringing new set of connector and all the existing accessories -charger and docks may not be usable with the next iPhone.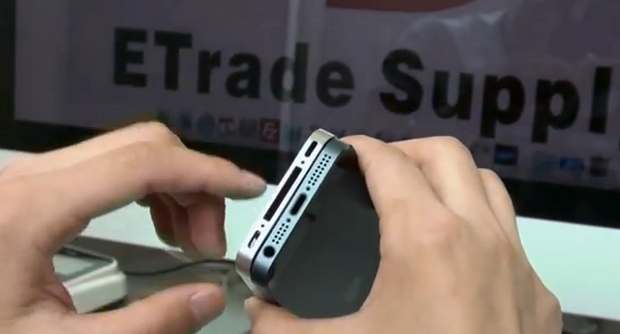 Apple has been known to take surprisingly bold steps with its products and change the eco-system of allied accessories. With the next iPhone, the company has planned to introduce a new 19-pin connector at the bottom to connect the iPhone with a Mac or PC over USB as well as with other new accessories. One thing is not clear whether this new 19-pin connector will come with some adapter that will make it backward compatible.
Apple has been using the 30-pin connector ports since the third generation iPod touch. The Apple hardware designers always have the penchant for saving the space and making the internal components more compact. Corroborated reports from three different resources hint that the next iPhone will come with 19-pin connector port. That changes everything for the compatible accessories maker.
With the space being saved with the new connector, Apple will be replacing the available real-estate at the bottom with speaker grill.
So far we know that the next iPhone will be slightly longer and will have a 4-inch Retina display. As of now, there are no details on when the new iPhone launch is expected but we are sure till be before the fall.