GSM mobile operators managed to add 6.50 million new connections in April 2012, according to the latest figures from COAI (Cellular operators association of India). This is the lowest monthly addition in last two years, barring the month of August last year when the figure was slightly lower.
While the biggest contributing factor of this slow growth is saturation of Metro markets which contributed only .99 million subscribers this month, category B circles contributed the highest with more than 40 per cent of the net additions.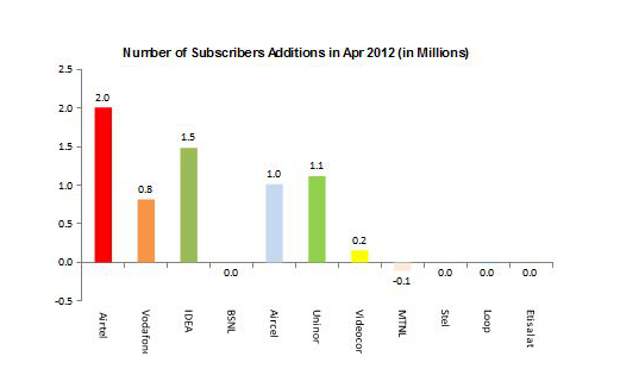 The other reason for this slow growth can also be attributed to the cancellation of licenses of players like Etisalat, Loop Telecom, Videocon, Uninor and Stel, which used to add significant chunk of new subscribers during last two years.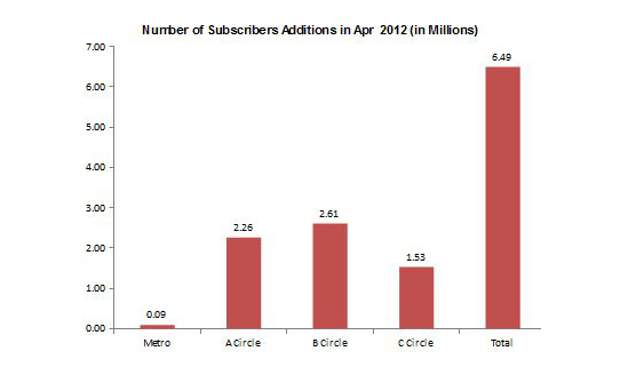 However, players like Uninor and MTS (a CDMA operator) continue to add subscribers despite Supreme Court cancelling their licenses. MTS added 0.2 million subscribers to its kitty last month while Uninor got 1.1 million new subscribers in April, making it the third successful player in terms of subscriber additions. Notably, Uninor had added 1.3 million to its user kitty in March as well. Other players like Etisalat, STel, Videocon, Loop Telecom have more or less stopped adding new subscribers.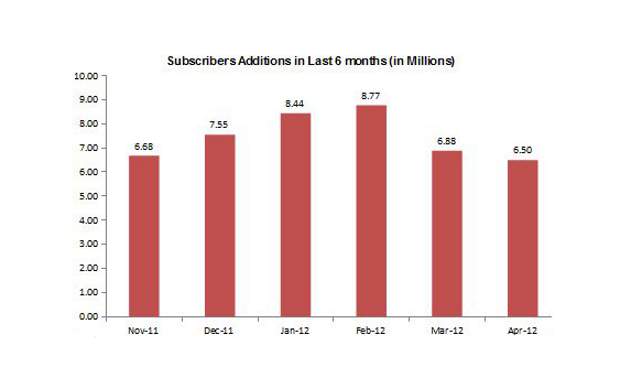 In terms of net additions, Airtel has regained its place at the top with 2.0 million net additions (it was number one in March too). Airtel had lost its No 1 status (in terms of subscriber additions) to Idea Cellular in first few months of 2012. Meanwhile, Idea has retained its No 2 position with 1.5 million net additions in April.
Public sector telecom operators continue to be in deep trouble even in terms of subscriber additions. MTNL lost 0.1 million subscribers while BSNL figures for this month was not available but it added only 0.9 million subscribers in the month of March.