Members of the Art of Living (AOL) Foundation can now buy a tablet that gets all the content like videos of Sri Sri Ravi Shankar's discourses, AOL bhajans or transcript of the latest talk and AOL book, one can also partake in a yoga session.
EAFT Technologies India Private Limited, a Chennai based company, has partnered with the Art of Living Foundation to provide preloaded content related to AOL through Enlighten range of tablets.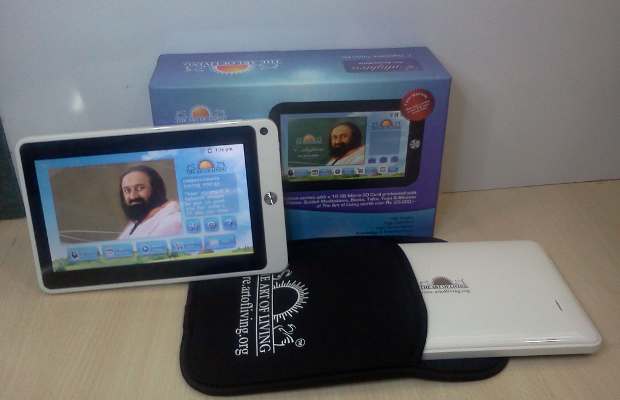 The first tablet, Enlighten, is priced at Rs 16,999 for the Android 2.3 version called Enlighten, and offers content worth Rs 20,000 free stored in a 16GB card. The content is also updated via the AOL website.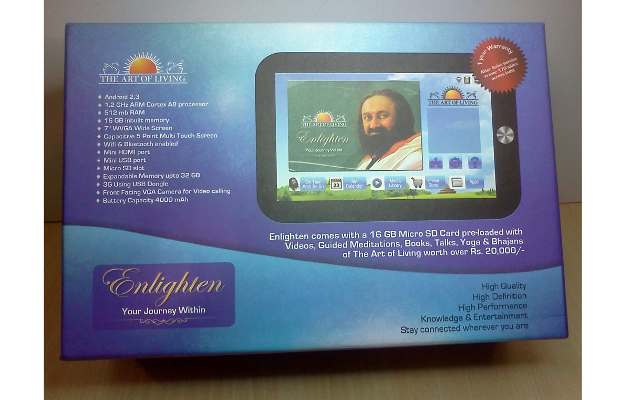 The Enlighten Tablet comes with Android 2.3. 16 GB inbuilt Memory & 32 GB Extendable Memory. It also is WiFi and Bluetooth Enabled, and offers 3G via dongle.
The tablet has a front facing VGA Camera for Video Calling. And works on a 1.2 GHz ARM Cortex A8 Processor, 512 MB Ram. The 7 inch tablet has capacitive 5 Point Multi Touch Screen.
The tablet also gets a Mini HDMI Port which allows to watch content on the TV with HDMI support. There is also a USB Port and Micro SD Slot. Battery Capacity is 4000 mAh.
For AOL this has simplified the logistics of having to ship multiple CDs or books to various locations globally, and neither do they have to worry about security of their content, as the Enlighten tablets are equipped with DRM or Digitally Rights Managed content, which cannot be copied or downloaded.
A second Tablet called the Enlighten plus comes with Android 4.0 (Ice-cream Sandwich), 3G connectivity, Wi-Fi, Bluetooth, 2160p video playback, etc besides 8 hours of continuous use battery life. The pricing of the tablet has not been disclosed.