Swipe Telecom, a California based startup with Indian founders, has launched three Android 4.0 based tablets in India which are priced between Rs 5,999 to Rs 8,999.
Interesting thing is that SIM calling facility and 3D display is available in the cheapest tablet of the three which is priced at Rs 5,999. Called the Swipe TabX74 3D, this tablet comes with a 7 inch 3D display but you need to use 3D glasses which is provided in the pack.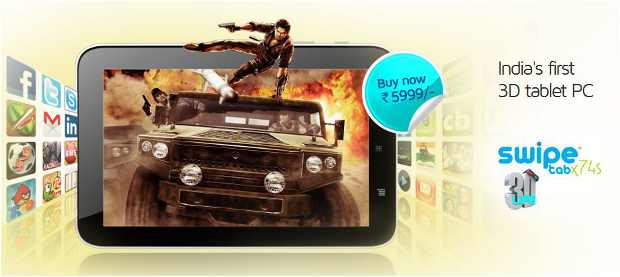 The tablet has a Allwinner A13 Cortex A8 processor clocked at 1.2GHz but is overclockable up to 1.5 GHZ. Besides, there is Mali-400 graphics processing unit and 512 MB DDRIII RAM.


Swipe TabX74 3D has also HDMI, USB and SIM slots and a 2 megapixel camera at the back, though there is no front facing camera which is strange given that almost all the tablets come with front camera even if they don't have a rear camera. Another thing lacking is the fact that it support external memory up to 16 GB only and has 4 GB internal memory. Though this is not bad in itself but most tablets comes with 32 GB expandable memory option. The tablet has a 3400 mAH battery with claimed support time of 5 hours of WiFi usage.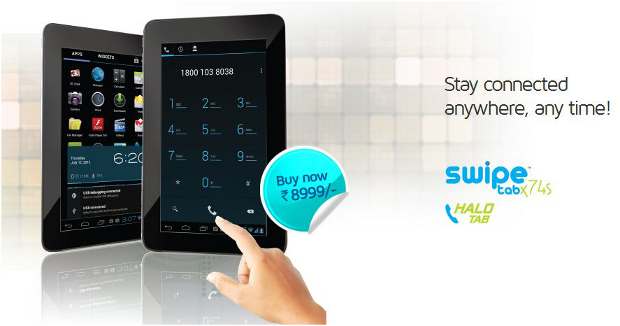 Halo Tab X74S is the costliest one among the three at Rs 8,999 and supports SIM calling function as well. It has the same processor as the 3D one but comes with 1 GB RAM. You also get a 1.3 megapixel camera in addition to the 2 megapixel unit at the back and a bigger 3800 mAH battery. Apart from this, there is no extra features. Infact it has no 3D feature and therefore we fear people won't see enough value in this tablet compared to the 3D version.
The mid version, called the Float Tab X78, is priced at Rs 6,999. This one misses out on 3G SIM but supports dongles. It comes with a 1.5 GHz Boxchip A13 processor coupled with Mali-400 GPU which is clocked at 350 MHz and 512 MB DDRIII RAM. It has 8 GB of internal memory which is expandable up to 32 GB. However, the tablet has only a 3000 mAH battery. You get a lot of bundled games and apps with this one.
On the face of it, the cheapest one looks as the best value for money. Even if we take out the 3D feature, the SIM card slot makes it the cheapest tablet with such a feature. Other two tablets don't seem to offer enough. However all will depend on which amongst these three tablets performs the best.