Even as the revolution in mobile phones and more has been happening, a big change in the home audio space, in terms of design and features has passed almost unnoticed. Today, the audio options available are packing in much much more, at a much lower price, when compared with what was available even three years ago. Keeping up with the trend is the new sony launch.
Adding to its audio lineup, Sony India has launched a new home audio system- MHC V50D. Priced at Rs 33,990, the MHC-V50D is available from July 13, 2017 at all Sony Centers and major electronic stores across India.
In terms of design, the MHC-V50D is compact and portable as it has inbuilt carry handles which facilitate easy movement. The device has a feature known as the plug in guitar which enables the users to just plug in and press the guitar key for listening to the sound of the instrument. Additionally, the karaoke mode allows the consumers to connect a karaoke Dvd, or a YouTube video via Bluetooth technology along with two mic inputs.
Furthermore, it contains a built-in vocal fader function which turns down the voice on CDs along with a motion control and DJ effects option. The motion control is for managing the selection of tracks. A smartphone's motion at direction is used for operating the tracks and managing the volume control.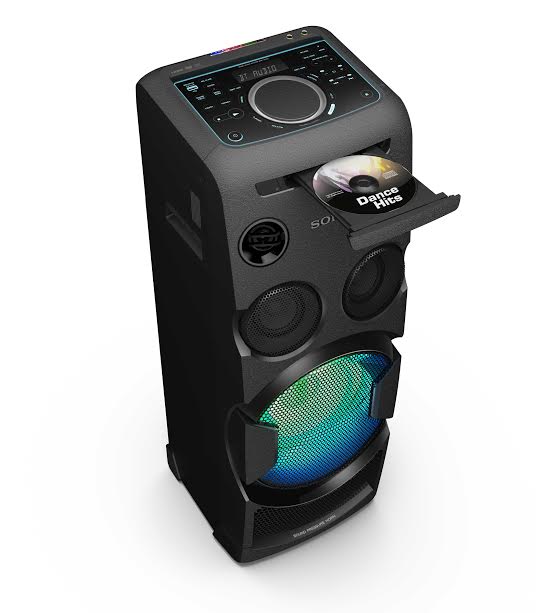 The company boasts of its exclusive Smart High Power Technology, Mica Cone speaker and high quality audio via Near Field Communication (NFC) and Bluetooth technology. Moreover, the MHC V50D is equipped with intuitive operations users can control the music via Wi-fi or Bluetooth, which means one can browse music through online streaming or by connecting to Sony's indigenous app.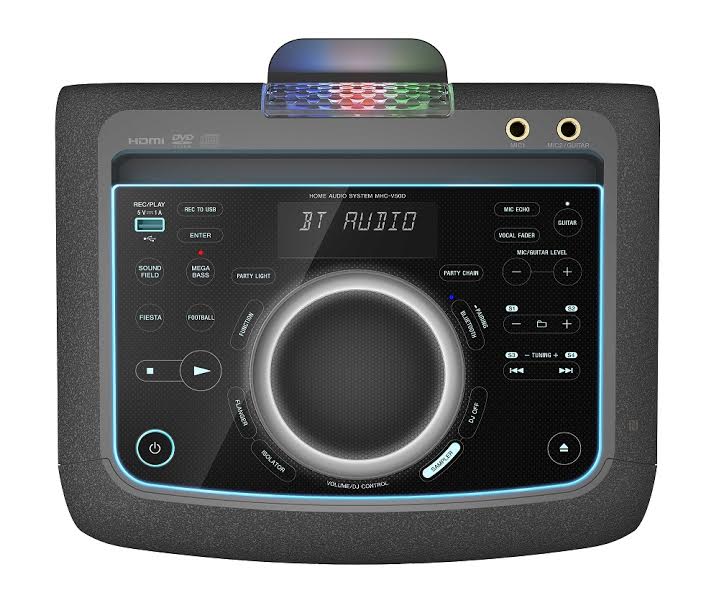 It also has an Illuminated LED Touch panel. The system's LED touch panel controls music and space illuminating lights which work along with a musical beat. The feature comes in the form of a touch key. The audio system comprises of DJ function and Party lighting, which allows consumers to add effects to music, voice and lighting. In this, lights are directed through a lens to spread a wide light pattern. These functions help to control the colours of the speaker's light and sync the same to the beats of the song. Moreover, the speaker can be connected with other Sony one box audio systems to amplify the sound and create an audio chain effect.
In addition to this, the speaker is embedded with an option for built in DVD/CD player, USB port, audio input and HDMI output and also comes with a built in FM radio tuner.