Sony's upcoming tablets will come with the latest version of Android operating system, the Honeycomb 3.2.
According to Carrypad, which posted some screenshots of the upcoming Sony tablets on its website, the devices will run on Android 3.2 as opposed to Android 3.1 communicated earlier. Besides, the new tablets will also feature a plethora of unique software's like Zino, magazine publishing software.
Also Sony is planning to add the 'Sense Me' feature to the music player of the tablets. This feature allows the device to capture the user's mood and plays or suggests songs according to that.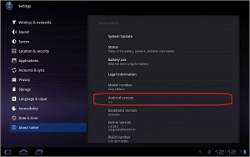 We are still seeking answers from the manufacturer on the same but no luck as Sony is tight lipped on the issue.
The devices are scheduled to be launched in September this year, but there is no clarity on whether it will be a global launch or will be limited to few countries. Also, now there are news coming in that Sony might also decide to change the names of these two devices as the titles are not finalised.