Developers of Indie Game, Team Meat has announced the release of a new game – Sniper Boy, for the Windows Phone running devices. The Sniper Boy game is centered around a character who is metallic super hero who is set out to save BotWorld from extinction. The game is available from Windows Marketplace for as low as $0.99 (Rs 49 approximately)
Team Meat has been quite popular for Super Meat Boy game as one of those difficult and challenging games that demands solving puzzles without losing the cool. Sniper Boy is about this metallic hero who sets out to save the BotWorld that is nearing extinction.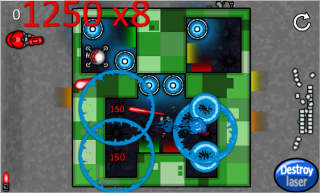 The game offers 50 levels in five different settings. Player is supposed to run low and aim perfectly in order to pass through each level. Every level provides different objects for the combat action with the opponents. Besides, the player has to dodge the exploding barrels and can access through different portals.
After the initial 50 levels, the Sniper Boy can go for the 20 bonus challenging power-levels to further test the brain power. Achievements can be unlocked for the flawless and amazing performance. Users can post their scores as well as achievements on Facebook.
Sniper Boy was talked about in June and now finally released for the Windows Phone 7.5 Mango update running devices.