Qualcomm launched the Snapdragon 710 at the end of last month as the first chipset under its 700-series to bridge the gap between mid-range smartphones and high-end devices. When it seemed like the company was done with its older 600-series chipsets, the Qualcomm powered device has been spotted at benchmarking site Geekbench sporting the Snapdragon 680 SoC.
While the Snapdragon 710 was designed to port premium smartphone features to mid-range mobiles with higher performance and battery life, the upcoming SND 680 will be a continuation of Snapdragon's 600-series chipsets and will be a direct upgrade to the older Snapdragon 660 which was announced last year.
With enhanced hardware acceleration and reduced power consumption, the Snapdragon 710 is already a hit among OEMs this year and the SND 680 will stress on doing the same as it makes its way to proper mid-range smartphones. The CPU on the SND 680 is a hexagon-core chipset, the second of its kind to be launched in the 600-series and is likely to be designed in a 2 + 4 configuration that was previously seen on the 650 chipset.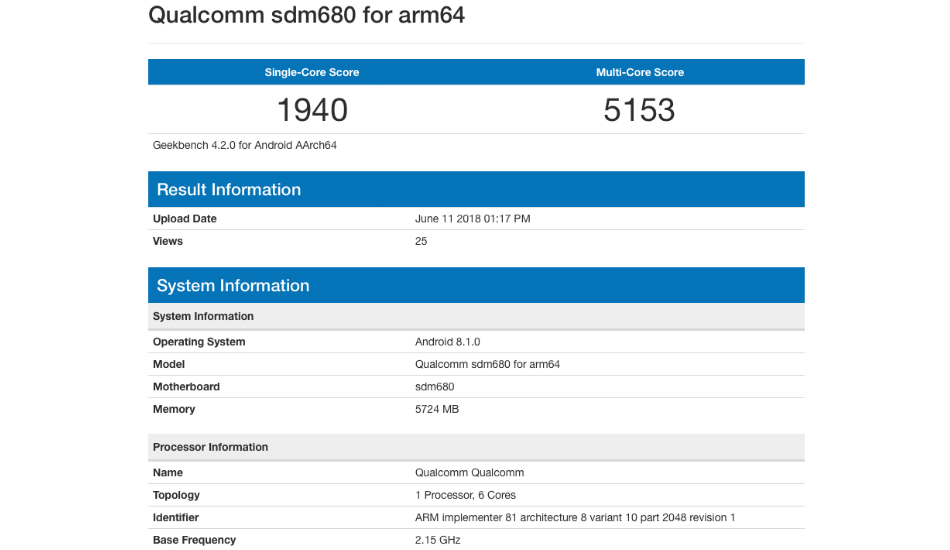 The SND 680 scored an impressive 1940 points on single-core, which is the same as that of last year's flagship Snapdragon 835. The chipset also scored 5153 points in multi-core tests with 6GB of RAM powering a device which was running the latest Android 8.1 Oreo. The scores suggest that the 680 stands somewhere between the last generation Snapdragon 660 and the recently launched Snapdragon 710.
While the naming of the chipset might change in the future as the SND 710 was termed as the SND 670 previously, the 680 in itself will be an answer to the vast range of smartphone chipsets that have targeted various sections of smartphone buyers lately. The chip could be designed on a 14nm architecture like its predecessor with support for an AI Engine, 3D depth sensing, QC 4 fast charging and we'll know more once details of the chipset become clearer.