After being relatively silent for many years now, Microsoft has finally launched something that caters Indian audience. At an event today, Satya Nadella, chief executive officer (CEO) of Microsoft launched Skype Lite. As evident from the name, Skype Lite is a lighter version of the famous video conferencing service, Skype and it also now comes integrated with Aadhaar verification. It is interesting to note that with Skype Lite, Microsoft apparently seems to take on the likes of WhatsApp, Hike Messenger or even Facebook Messenger for that matter. Skype Lite is not only a video call service anymore, it can double up as your default SMS app, default Dialer and also shows up your Call Log. Not only this, we also get a bunch of Chatbots including AP Transport Authority, Horoscope, Meme cat, Murphy, Your face, Skype and Skype Support Bot. However, with the growing popularity of WhatsApp, will Skype Lite be a game changer for Microsoft or are we set to witness another Google Allo-like failure here, let's find out.
Also SeeFuture Decoded: Skype Lite launched exclusively for India with Aadhar Integration
Size and Memory
An app's fluidity and the fact how optimised is it for your OS can be easily judged by its size. While the original Skype app weighs over 30MB, the new Skype Lite comes at a size of just over 12MB. Meanwhile, the latest Beta version of WhatsApp was sized around 23MB on my device although it can vary depending on what device you use. Nevertheless, Skype rightly justifies its name here as it weighs almost half of WhatsApp currently on Google Play Store.
User Interface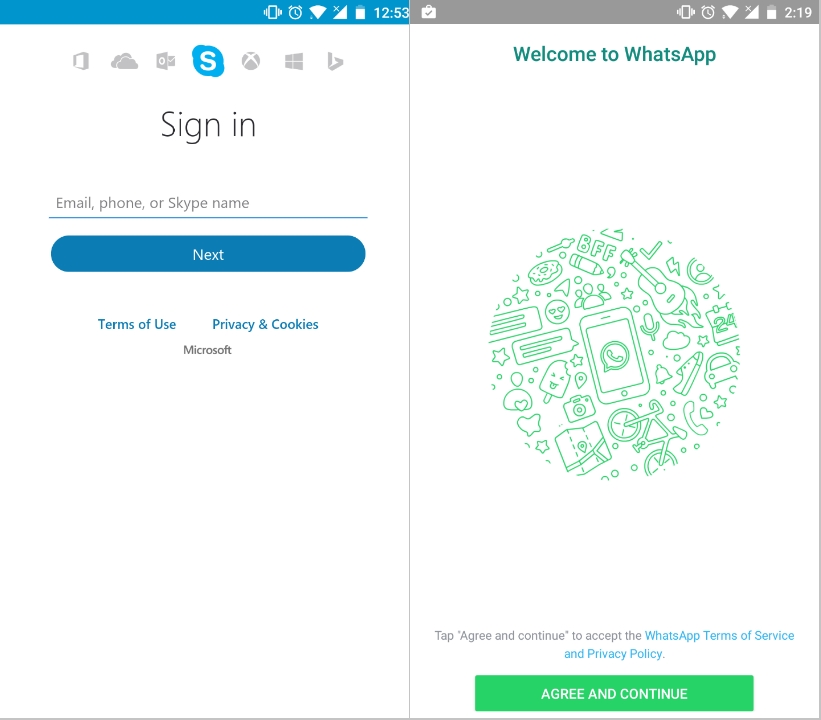 User Interface is another aspect where an App either grabs the crown or is uninstalled from one's smartphone (or any other device). While interactive UI is equally important, users today demand a fluid and smooth navigation through out the app. Starting with WhatsApp, the Facebook-owned chat messenger has been the pioneer in the simplicity department. Opening up the app post logging in will greet you with your Chat Menu listing all your conversation in descending chronological order. On the left of the Chat Tab, we get our Call Log for both voice and video calls and on the right, we get the list of contacts which are using WhatsApp. Tapping on someone's picture in the Chat Menu magnifies his/her profile picture along with options to start a conversation, voice call, video call and more info (Information Icon). Jumping to a contact's information will reveal you the profile picture again along with all the media you have shared with him, an option to customise notifications, Status Info, Mobile Number and Common Groups. You can start a new conversation or a group chat simply by tapping the three-dot-menu on the top right. Further, you can also search for a conversation or a contact from the search option. WhatsApp also gives you an option to use the app on your PC/Desktop/Laptop with WhatsApp Web. Moreover, you can also Star Messages and view them later under Starred Messages present in three-dot-menu. Settings menu reveals a tonne of other customisations such as notifications, privacy settings, chat backups etc. We are pretty sure you are well versed with how WhatsApp looks and works.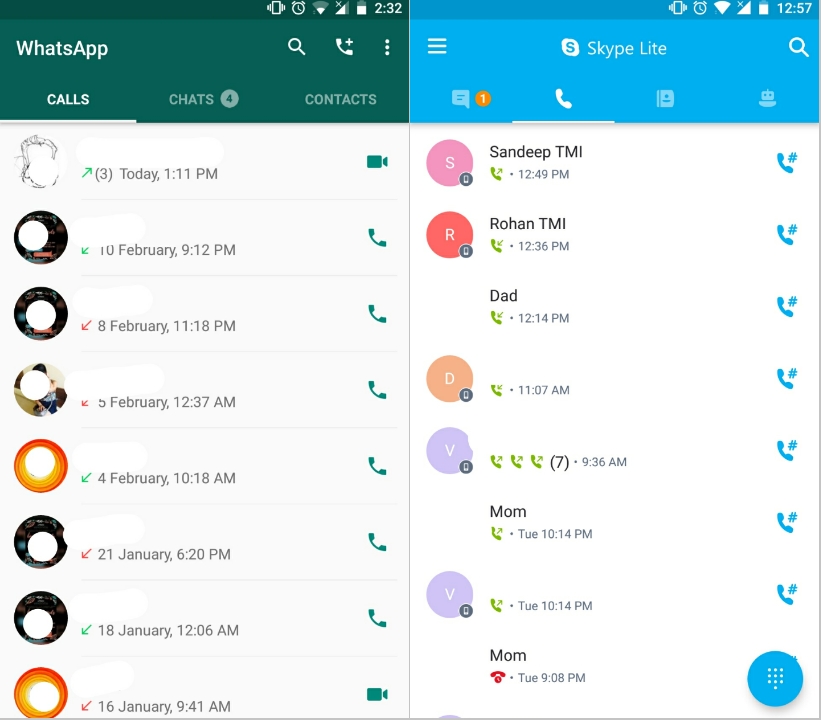 Jumping to the Skype Lite now, unlike WhatsApp, you need to have a separate Skype account (or Microsoft Account) in order to login. Once logged in, you get your SMS directory, swiping right will get you the Call Log, Swiping right again will get you your contacts and on the extreme right lies Skype's newly introduced chat bots. Making a normal phone call is easy and Skype Lite will give you an option from either make the call from Skype's own balance or as a normal phone call. We also get a Dark Menu and Aadhaar integration.Tapping on the three-line-menu or swiping from the left will reveal the data usage graphic which shows how much internet has been consumed by the app through your Wi-Fi and mobile data. My Profile option in this menu will take you to your Profile where you can put your display image, add skype credit, subscribe to select users, add details like mobile number, home, office/work, birthday, city etc. Note that, tapping on the edit option (Pencil Icon) will open up your Profile on a webpage inside the app which is acceptable as the app is a lighter version of Skype. Coming back to the chatbots, Skype offers a tonne of chatbots such as Horoscope, Meme cat, Murphy, Your face, Skype, Skype Support Bot etc. You can also search for a new chatbot from the search icon at the bottom. These Chatbots will essentially show up all the information related to their domain inside a chat window. Talking about the chat window, Skype now offers a more simplified interface for chatting with your skype contacts. Besides you can also send SMS directly from the app. Also, you can easily filter out what conversation threads you want to see under the SMS tab. One thing we didn't like about the Skype Lite is that we can no longer relocate our own video window while on a call.
Video Calling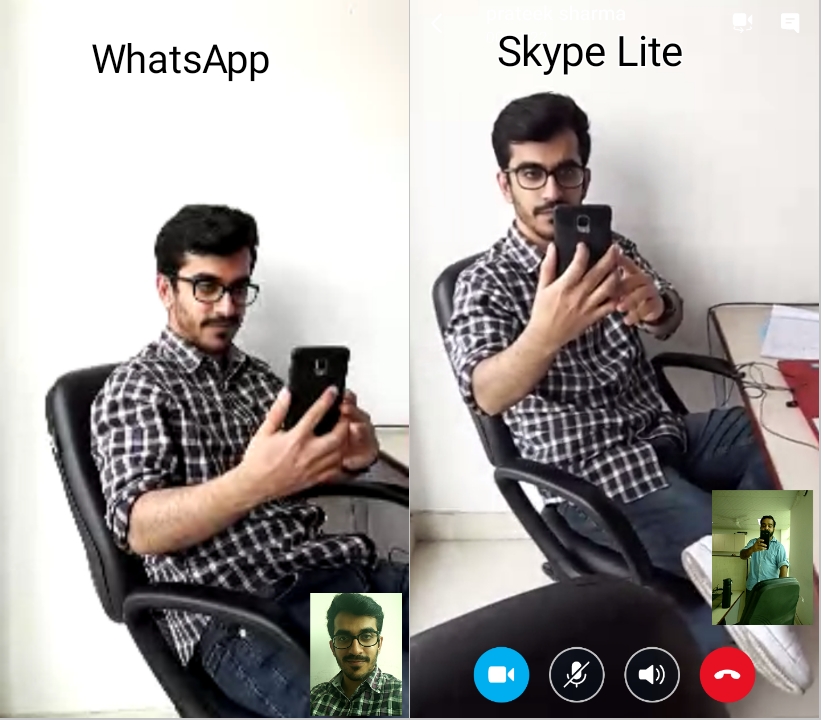 Skype has been long known for its video-calling and after WhatsApp introduced video calling to its ecosystem, we couldn't wait to test and compare the experiences on both these chat messengers. Making a video/voice call on both the apps is fairly simple. Just go to the contact to which you want to make a call, and tap the little 'Phone' icon on the top right corner. While WhatsApp gives you an option to make either video or voice call, Skype Lite will straight away make the call to the desired contact. Talking about the overall quality, Skype Lite certainly has the edge here. During our brief testing session, both the video as well as audio quality was much superior on Skype Lite. Further, Skype also gives you an option to mute your audio, switch off your video, or take the call to speaker mode. Both the apps also give you an option to mute your audio, chat simultaneously and shuffle between the front and back cameras. Interestingly, both the apps try to be less heavy on your data which is a good thing. However, as the last verdict, we give this one to Skype Lite as it offers much better quality both in terms of audio, video and frame rate.
Should you try Skype Lite?
Of Course, you should. Skype Lite seems to be a very good alternative to our native Skype App or any other app for video calling purposes. Microsoft has done a pretty impressive job of stuffing in so many features in an app which only weighs around 12 MB. The Video Calling experience is top notch as well, however, WhatsApp has something which Skype still doesn't have and that is the user base. Being probably the most used chat messenger, WhatsApp still rules when it comes to chatting messenger. We have to admit that the number of people chatting would any day exceed the number of people video calling, so Skype Lite will surely have a tough time entering the chat messenger domain whereas, the video conferencing is something where it will surely dethrone a lot of current apps for that purpose.