At an event in Mumbai today, Satya Nadella, chief executive officer (CEO) of Microsoft launched Skype Lite along with Aadhar integration, a lighter version of popular calling and messaging app Skype, exclusively for India. The highlight of this app is it save data and is almost 60% lighter than current Skype app. Skype app has a size of 30.64 MB, whereas Lite is just 12.75 MB.
The app is aimed at offering video and voice over Internet protocol services that are optimised for India's mobile networks – specifically, to offer a better experience over 2G and 3G networks even when it is patchy. Microsoft has been testing this app, with a pseudo name Skype Mingo, for quite some time now.
As for the Skype + Aadhaar integrationis concerned,it is meant to be used by government agencies or any other organisationfor verifying users based on Aadhar. To explain how it works, Satya, Nadella said, " Once inside a Skype Lite Call, if you tap on the menu button, you can see a Request Aadhaar verification option. Tap this, and a verification request will be sent to the person you are talking to. If they accept, then they will receive an OTP on the phone number linked to your Aadhaar number. Key in the OTP and your identity is verified."
The look and feel of Skype Lite is quite refreshing as compared to Skype. In the Lite app apart from the regular Skype features which include sending Skype messages and making Skype calls, it offers full phone functionality. This means you can use the app as a dialler app and a text messaging app in which promotional and normal SMSes are placed in different tabs. In short Skype Lite will act like a default app for communication on your phone.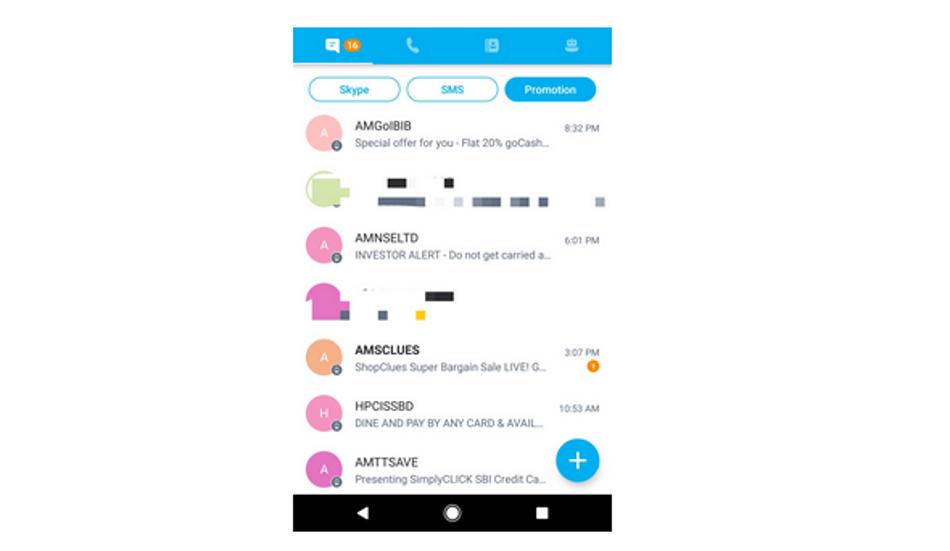 In the Skype Lite app, there are four main tabs message, call history, contacts and chatbots. As far as chatbot are concerned there are seven bots as of now which include AP Transport Authority, Horoscope, Meme cat, Murphy, Your face, Skype and Skype Support Bot.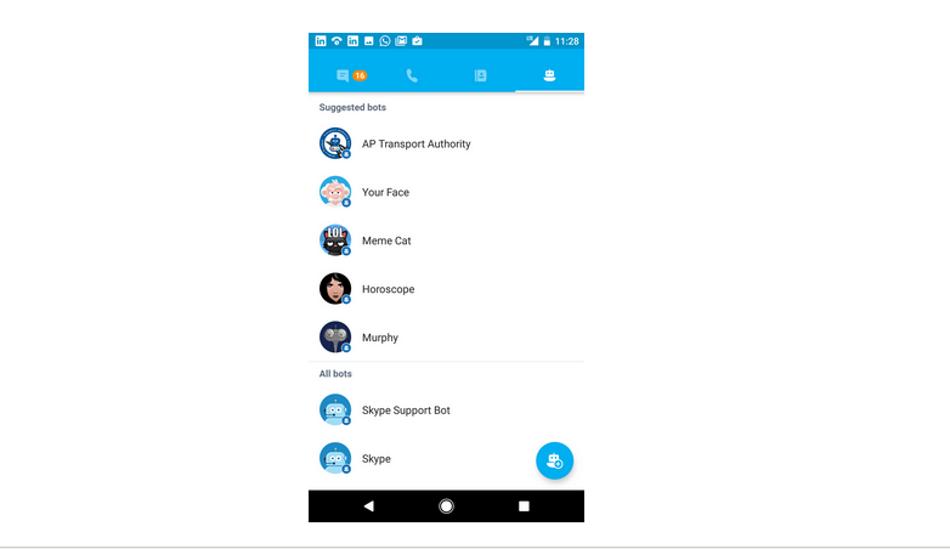 AP Transport Authority: This bot will help you understandthe procedure, documentation and cost, for availing road transport authority services in Andhra Pradesh. The service includes driving licence and registration of vehicles.
Horoscope: As the name suggest this bot provided you with a daily dose of predictions based on your sign.
Meme Cat: This bot simply makes memes for you.
Murphy: Sometimes we find ourselves in such scenarios where only words can't answer our queries. To be specific " what if" kind of question. This Bot will find and create images that illustrate answers to your " what if " question. Keep it in mind don't take the recommendation seriouslyunless you don't want a healthy laugh.
Your Face: This bot will provide a frank assessment of your face based on your picture. Please don't be surprised if you get a nasty response. This bot is powered by Microsoft Cognitive services.
Skype Support Bot: It provided you assistance with Skype services.
In order to give homogeneous service experience, even in a 2G network, Microsoft has used an image compression technology in the app, which comes into play when one shares pictures. Another interesting feature in the app is if one wants to reshare the pictures received, downloading it in phone memory is not required. Just reshare it.
To allow users of Skype Lite to keep a tab on data consumption, Microsoft has also introduced data usage statistics meter in the app as well. The app is available both on Android Play Store and Apple store.The new app has also been localised and will support seven Indian languages – Hindi, Gujarati, Bengali, Marathi, Tamil, Telegu, and Urdu.
The road ahead for Skype might not be smooth as it will face a tough challenge from Facebook's Messenger and WhatsApp, which are quite popular options for text, voice, and video conversations in India.
Disclosure: Author's travel and stay in Mumbai to attend the Future Decoded conference was sponsored by Microsoft.