Sharp, a Japanese company, has introduced world's first WiMAX supporting Android tablet, named Galapagos EB-A71GJ-B. The 7 inch tablet runs on Android 3.2 Honeycomb operating system and is powered by dual-core Nvidia Tegra 2 mobile processor.
The new Galapagos EB-A71GJ-B tablet features a 1024×600 pixel resolution supporting TFT-LCD capacitive display. Under the hood, it houses a dual-core Nvidia Tegra 2 SoC processor that is coupled with 1 GB memory to pair up as enough hardware muscle to run Android 3.2 Honeycomb OS. The tablet has mere 8 GB internal storage but offers a memory expansion slot to add more storage.
The distinct feature of this 7 inch tablet is its WiMAX support that makes it capable of 40 Mbps download speed on Japan's local Operator UQ network. This tablet can tether up to seven devices that are WiFi capable and thereby share the wireless connectivity. The Sharp tablet has been launched in Japan and remains to be first WiMAX supporting tablet.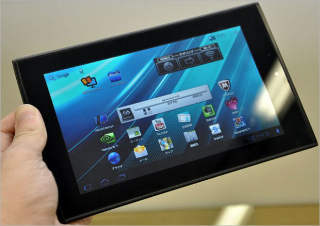 The tablet Galapagos EB-A71GJ-B also features different sensors such as ambient light sensor, gyroscopic sensor, orientation sensor and accelerometer. The tablet also comes with microHDMI port to connect the tablet with larger display and also microUSB for charging or data transfer.
Sharp hasn't specific the power of lithium-ion battery used for the Galapagos tablet neither was the battery runtime on single charge mentioned. It has not also divulged the battery usage while the WiMAX network mode is in use. The Galapagos tablet can playback a video for 6 hours and offers standby time of 10 days.
Currently the tablet is on sale for Japan only but the price wasn't announced. However, the feature set offered by the 7-inch form factor tablet are indeed impressive.