Sharp has launched a new set of printers in India, including the BP-70C and BP-50C multifunction printers. The new MFP series boast of 1200 dpi resolution, advanced AI capabilities for scanning, and user-friendly operation. As for the Portronics Ruffpad 15M, it features a large coloured LCD display with a sleek portable design for drawings and notes that you can save with a smartphone app.
Sharp Multifunction Printers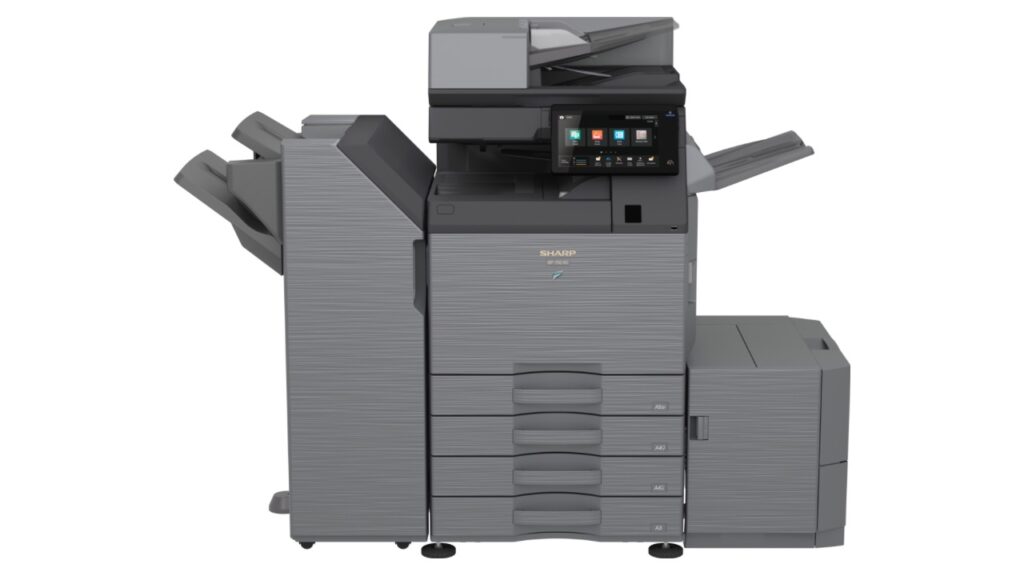 Sharp has positioned its new MFP series as the Smart business partner for businesses of all sizes. The BP-70C and BP-50C MFP series are "SMART" and leverage the latest technology such as AI to make everyday documentation tasks easy and efficient. They have a large 10.1-inch capacitive touch panel to browse through the functions.
The BP-70C series includes a 300-sheet DSPF (Duplex Single Pass Feeder) with high-speed scanning of 280 opm, and the BP-50C series includes 100 sheets RSPF (Reversing Single Pass Feeder) delivering a scanning performance of 80 opm.
With its smart inbuilt Auto set scan feature, the MFP automatically determines the optimal resolution, gradation, compression rate, page orientation, and skew correction for all kind of scanning jobs. The new printers have easy integration for cloud-based applications such as OneDrive for Business, SharePoint Online, Google Drive, Box, Dropbox, and MS Teams.
The integrated experience allows users to easily scan documents and upload them to the cloud and remotely execute document jobs. With the Sharpdesk print and scan mobile app, users can connect directly to the MFP for printing and scanning through NFC & QR code.
The latest series also have capabilities such as Air Print, Wi-Fi Direct to restrict access to visitors, Wireless LAN connection with Wi-Fi Protected Access, a security protocol with 5 Ghz band, Microsoft Universal print, enabling better connect with colleagues to get the job done remotely anytime and from any place.
Read More: U&i My Bolt series smartwatch, Portronics Talk Two Conference speaker launched in India
Security has also been kept in mind, with features such as Data Encryption and Erase, BIOS Firmware security, LDAP and Active Directory, Image Job Log, Whitelisting, Data erase from MFP at the end of the lease period to prevent the leakage of confidential information, Optional Virus Detection, and Document Control.
To safeguard against the growing range of cyber risks, Sharp new MFP series is also equipped with the Bitdefender scan engine, which defends against virus attacks on the MFP and connected devices.
The new multifunction printers from Sharp are suitable for a wide range of companies and segments, covering large corporations, educational institutions, consulting firms, publishing houses, hospitals, BFSI, stock exchanges, e-commerce, PSUs, and government organizations.
Portronics Ruffpad 15M
Portronics has added another digital smart pad to its collection, called Ruffpad 15M. Unlike other smart pads in the market, this device features a large coloured LCD display with a portable design for drawings and notes that you can save with a smartphone app.
The Portronics Ruffpad 15M is available in the market at a discounted price of Rs 1,399 (MRP Rs 3,499) backed with a 12 months warranty. Users can buy it from the company's official website Portronics, Amazon, Flipkart, and other leading online and offline stores across India.
Built within a 6.6mm 340g frame, the Portronics Ruffpad 15M is sleek and lightweight making it highly portable. The pad sports a large 15-inch LCD with multiple vibrant colours. It gets a stylus with a rugged tip which offers a "sharp and ultra-smooth writing/drawing experience on the matte-finished display surface", says the brand.
The pad is powered using a simple 3V user-replaceable coin cell with a long battery life so you can use it for months without needing a battery replacement. A one-tap button upfront is provided for quick erasing, while a smart lock switch on the rear prevents it from accidental erasing. And finally, you can save and share your creativity, or notes on your smartphone by using the Ruffpad App available for both Android and iOS.