Microsoft has unveiled two new features for its Bing Maps which allow the users to share their Bing Maps more easily than ever. Users can now easily modify their trips with route editing capability.
In the new Click to Share button, users can easily send the shortened URLs to somebody, or post the map to Facebook and Twitter or they can send an SMS also if they are in certain countries (not in India).
The Bing blog post further says, "We've streamlined our directions to make it more intuitive and reduce the steps required to modify your routes or switch between multiple route edits. We did this by adding inline editing, making the route steps easier to read, and simplifying available buttons.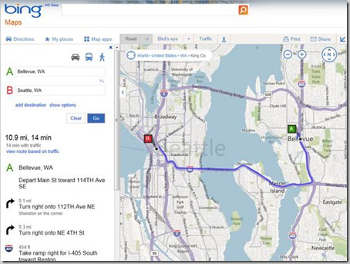 With the new inline editing capability directions page, you can now modify your destinations without having to go back to the edit section."
The integration with Facebook continues which means there will be a button in the top right corner that will allow users to share on social networking sites Facebook and Twitter right away. In fact, the new features bring social and accessibility features together.