Samsung Galaxy Tab 7.0 Plus has made a quiet entry into India. The all new Galaxy Tab 7.0 Plus is a lighter and improved version of its predecessor &#151 Galaxy Tab 7 &#151 with better software and hardware.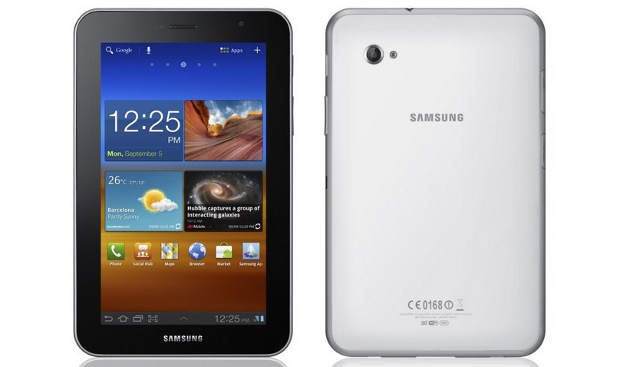 According to Mahesh Telecom, the new Samsung Galaxy Tab 7.0 Plus will be available for Rs 26,990.
Samsung Galaxy Tab 7.0 Plus comes with a dual core mobile processor with calling facility, and runs on Android 3.2 Honeycomb OS.
The new Samsung Galaxy Tab 7.0 Plus GT-P6200 tablet comes with a dual core 1.2 GHz mobile processor along with 1 GB of RAM &#151 twice the muscle power of its predecessor. Also, this tablet comes with the most recent graphic chip &#151 Mali-400, which is the same one used in the company's current hot selling handset &#151 Galaxy S II GT-P9100.
The Galaxy Tab 7.0 Plus features a 1024 x 600 pixel resolution PLS LCD display, apparently of better quality than the one in Galaxy Tab GT-P1000. Apart from basic hardware changes, even the operating system has seen a jump. The new Galaxy Tab 7.0 Plus comes with Android 3.2 Honeycomb tablet operating system. Samsung has announced that Galaxy Tab 7.0 Plus will get the Android 4.0 Ice Cream Sandwich update whenever it is ready for release.
The rear camera with 3.15 megapixel image sensor is now capable of recording 720p HD video at 30 frames per second. Of course, there is a front facing camera for video calling or chat. It's unclear whether Google Talk with Video is supported on this tablet.
Other features such as tri-band 3G support for voice calling, WiFi, Bluetooth 3.0, accelerometer, gyroscopic sensor and GPS remain the same. Samsung has packed the same 4000 mAh battery with the Galaxy Tab 7.0 Plus, which promises talk time of about 40 hours, and we expect better performance once Android 4.0 is released.
Samsung has played it smart by keeping the same form factor but has packed more muscle in the tablet. However, the price of Rs 26,990 will confuse the consumer and will force him to compare the device with Galaxy Tab 730 and other tablets that have a 10.1 inch screen, and are priced between Rs 26,000 and Rs 30,000.