RIM recently showed the new BlackBerry 10 OS with fresh set of features and user experience recently at the BlackBerry Jam 2012 Conference in San Jose, California, USA. Fresh batch of features also included the redesigned mobile web browser in the BlackBerry 10 OS meant to meet the new HTML5 standards. According to a new blog post at BlackBerry Developer Blog, the BlackBerry 10 managed to pass one of the toughest HTML5 Test Suite – Ringmark, with flying colours.
Out of the several new generation mobile browsers, rarely one of them manages to go through the HTML5 Tests prepared to determine the compatibility with the standards. Ringmark is a popular HTML5 standards compatibility in the web browsers and is spread across three stages – r0, r1 and r0. Each stage is several specific elements benchmarks set to be tested with the web browser.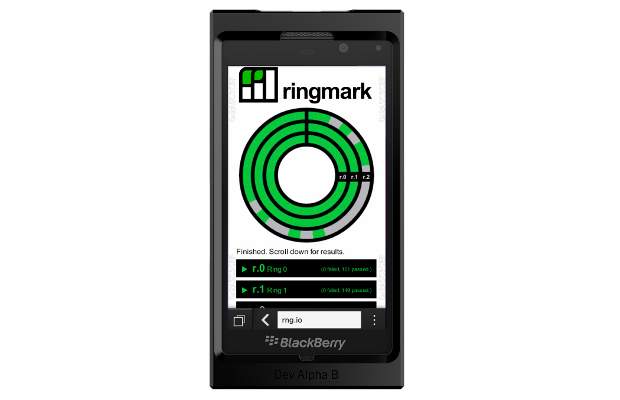 RIM noted that the BlackBerry 10 browser managed to pass the Ringmark Ring 1 benchmark standard. Basically, after passing this second standard in the Ringmark test, the developers will be able to create HTML5 based advanced web apps such as 2D games, music, video apps and even camera apps.
The BlackBerry 10 OS is still work in progress is not yet ready for the public availability. With the Ringmark Ring 1 completion, RIM is aiming to build one of the best and HTML5 standards ready mobile web browser. This mobile web browser would be as capable as the desktop web browser to handle the different web apps that could deliver multimedia experience.
In a way, BlackBerry 10 browser beats the new iOS 6.0 based Safari web browser in the Ringmark tests and competes with Google's Chrome.
Now this is an interesting development being touted by RIM since the creators of Ringmark themselves are moving away from the HTML5 standards. Recently Facebook CEO Mark Zuckerberg admitted that betting too much on the HTML5 (for Facebook mobile apps) was a mistake. Meanwhile, most mobile platform breeding companies are busy fixing their mobile web browser to able to pass the Ringmark Tests.