Telecom Operator has seen some drastic changes over the past 6 months, thanks to Mukesh Ambani's Reliance Jio. Analysing the data thoroughly, Truecaller has now released its insights of the latest standings in the telecom sector along with other contribution and significant changes that have come across all this while. As per the Truecaller report, Reliance Jio currently stands at the 2nd place along with a market share of about 23 percent.
Telecom Industry saw a sudden increase in subscriber base when researched back in the month of November. To put this in figures, India's Telecom Industry had more than 1.12 billion subscribers of which about 16.2 million were added from the new entrant, Reliance Jio. Back then, the latest player (Jio) had a subscriber base of 51.87 million which was later reported to be about 72.4 million in January. Given this speed of growth, Reliance Jio has already outlasted the likes of Facebook, Whatsapp when we put the growth in numbers and subscribers.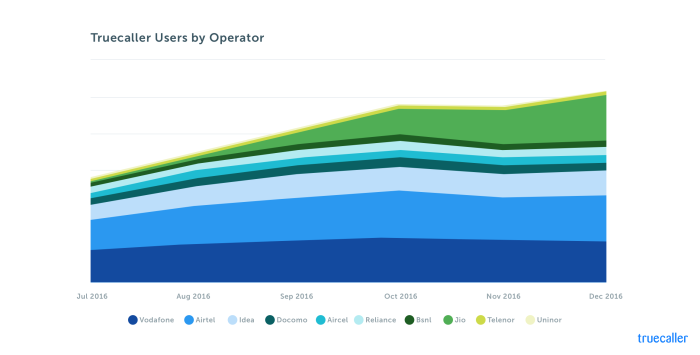 Segregating the subscriber base as per different regions, Reliance Jio and Airtel had similar results in areas like Delhi, Andhra Pradesh, Mumbai, Tamil Nadu etc. Surprisingly, Vodafone had the maximum subscribers in cities like Delhi and Mumbai and with the recent speculations of Vodafone-Idea merger, these figures are likely to hike up significantly making the merger unit prevalent all across the country.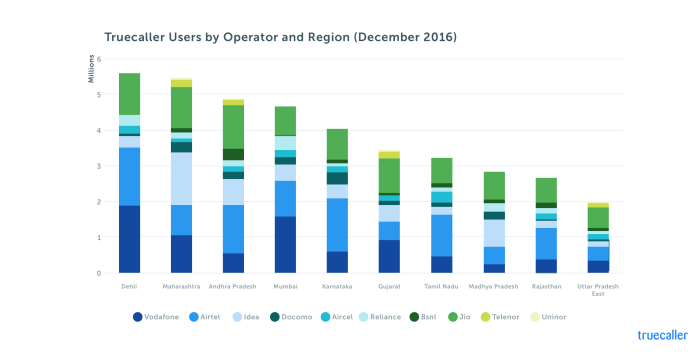 In terms of call duration, Vodafone users keep it the longest with an average of 41 seconds while Reliance Jio users get their talking done in less than 30 seconds on average, claims the report. Moreover, users residing in Kolkata seems to talk on the phone the longest with an average call duration of 42.17 seconds while the ones from Jammu and Kashmir normally remain on phone for 28.63 seconds on average. Jio users also make the most calls per user which are probably due to the free services combined with significant amount of call drops and failures.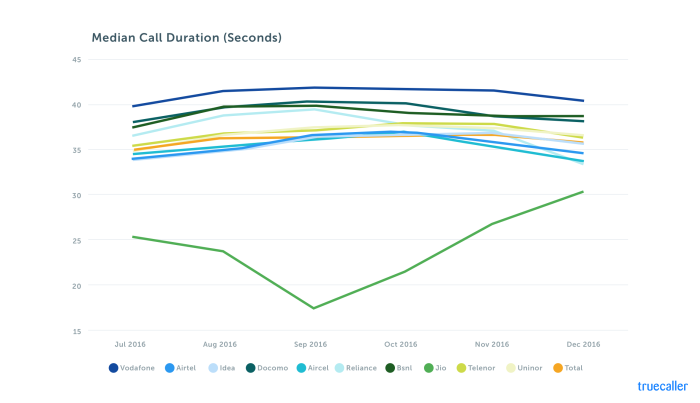 Coming to the data consumption, Truecaller report highlights that Reliance Jio again had the maximum broadband segment closely followed by Idea Cellular Ltd (net addition being 2.52 million). Bharti Airtel and Vodafone managed to add about 1.08 million and 890,794 subscribers respectively. The report also highlights that of all the people owning a 4G mobile handset, about 42 percent are using Reliance Jio as their primary source of data while the figures are comparatively low for players like Airtel, Vodafone and Idea at 17.54 percent, 12.26 percent and 11.50 percent.
Also SeeSamsung Galaxy On5 Pro, Galaxy On7 Pro gets a price cut of Rs 1,200
Lastly, Truecaller insights predict that the mobile internet usage will grow even further to over 500 million user base which will have a large chunk of users from Reliance Jio.