Reliance Jio has been leading the 4G network speed charts, according to recent data shared by the Telecom Regulatory Authority of India (TRAI) through MySpeed app. However, in an interesting turn of events, the brand is reported to have slowest average 4G speeds in the country as per another report.
According to a report by
OpenSignal

, the everyday 4G speed download speed of Reliance Jio is just 3.9 Mbps. Interestingly, Airtel leads the pack with an average 4G download speed of 11.5 Mbps. This means that in day-to-day usage, users are getting slow 4G speed as compared to other telecom operators.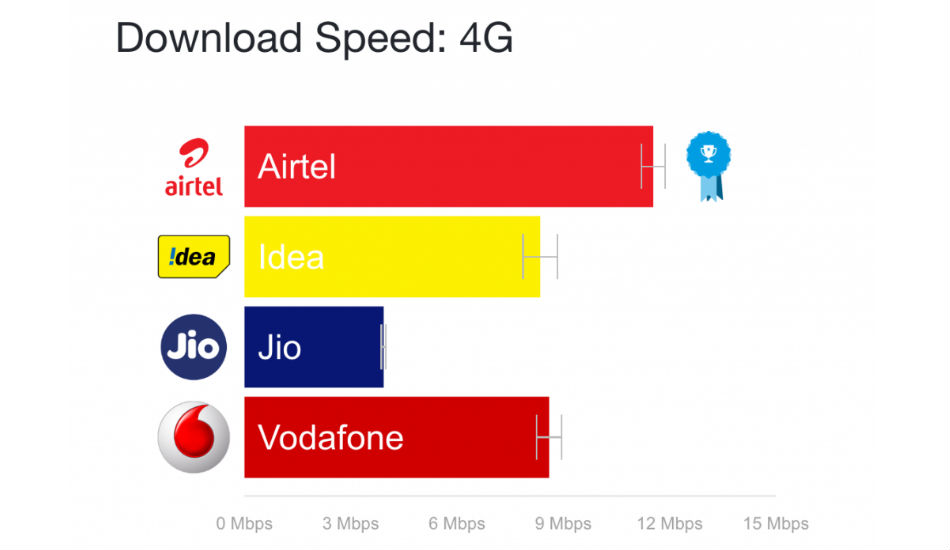 However, the report highlights that Reliance Jio has the second highest peak speed of 50 Mbps, which is nearly 13 times faster than its average speed. The report further adds that slowest average speed is due to congestion. "Jio has experienced phenomenal growth since launching its all-4G service last autumn, signing up more than 100 million subscribers in the space of few months, and for much of that period Jio has been offering those customers nearly unlimited access to mobile data.
"That kind of heavy usage is bound to tax any network, forcing users to vie against one another for bandwidth. Our data shows that Jio's slow average 4G speeds aren't a technical limitation, but rather a capacity bottleneck. As Jio adds more capacity — either through new spectrum or building more cell sites — or as Jio's mobile data consumption levels drop, then its typical download speeds should increase," the company said in a blog post.
You might also like this:
Comparatively, Airtel once again leads the pack with a peak speed of 56.9 Mbps, while Vodafone and Idea have a peak speed of 36.5 Mbps and 29.8 Mbps respectively. OpenSignal says that they have calculated average peak speed from December 2016 to February 2017.