Days after slashing the price of the Realme 2 Pro by Rs 1,000, Realme has now teased its upcoming smartphone on social media. The upcoming device which we believe is the Realme 3 will be the sixth smartphone launched by the Oppo divorcee and we can expect its launch sometime next month.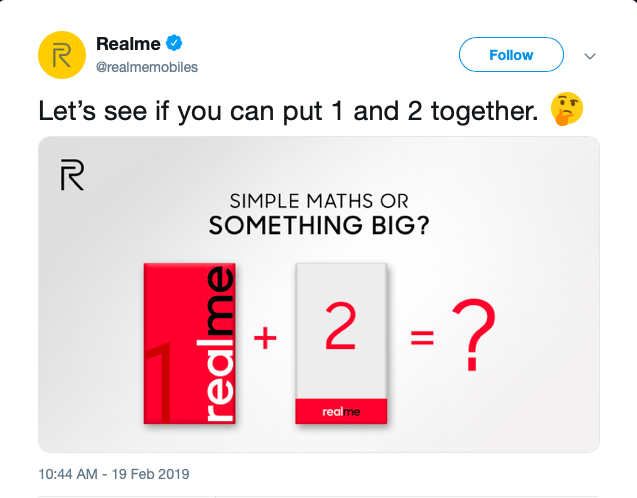 The teaser was first posted by Realme Mobiles' official Twitter handle showing retail boxes of its first smartphone Realme 1 and its successor, the Realme 2; adjacent to each other. Clearly a less vague hint to show that the successor to the Realme 2 is coming. However, the teaser also reads out "Simple maths or Something big", which begs to ask if the upcoming device is anything other than the Realme 3.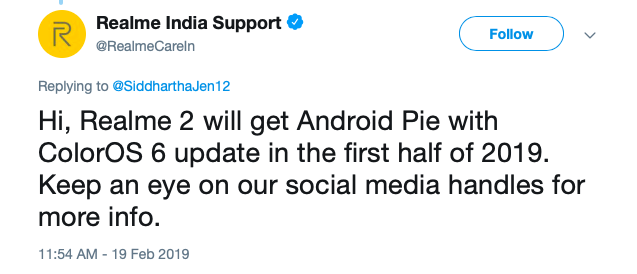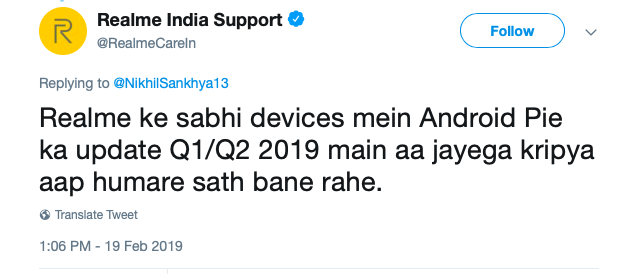 Besides, that Realme has also confirmed that Realme 2 and all of its other devices will soon be updated to Google's latest Android 9 Pie. The company also confirmed that the upcoming software update will also be coupled with ColorOS 6 which remains its primary interface, considering how much Realme wants to call itself an independent brand. Android 9 Pie update to all sex Realme devices will find its way during Q1- Q2 of 2019.
Coming back to the Realme 3, we haven't heard much about Realme's soon-to-be-released smartphone as there have been no leaks or rumours surrounding the smartphone. That's odd as it's widely reported that the Realme 3 or whatever the new Realme phone will be called, will go live sometime next month.
Earlier this month, it was reported that Realme will introduce Realme 3 and Realme A1 in the first quarter of 2019. It was claimed that the Realme 3 was recently certified by Singapore's IMDA certification agency with model number RMX1821. The company will also launch another smartphone with model number RMX1825, which could be none other Realme A1. The said smartphone is reported to be placed between Realme U1 and Realme 2.