Yesterday, Realme confirmed that it will launch a Q-series smartphone on September 5 in China. While there wasn't much information about the upcoming Realme phone, the company has now confirmed that device will be powered by a Snapdragon 712 processor.
The news comes directly from Realme who posted through its official Weibo account a poster about the upcoming Realme Q smartphone. The company has confirmed that the Realme Q will be powered by a Qualcomm Snapdragon 712, the same chipset which powers the Realme 5 Pro and Realme XT.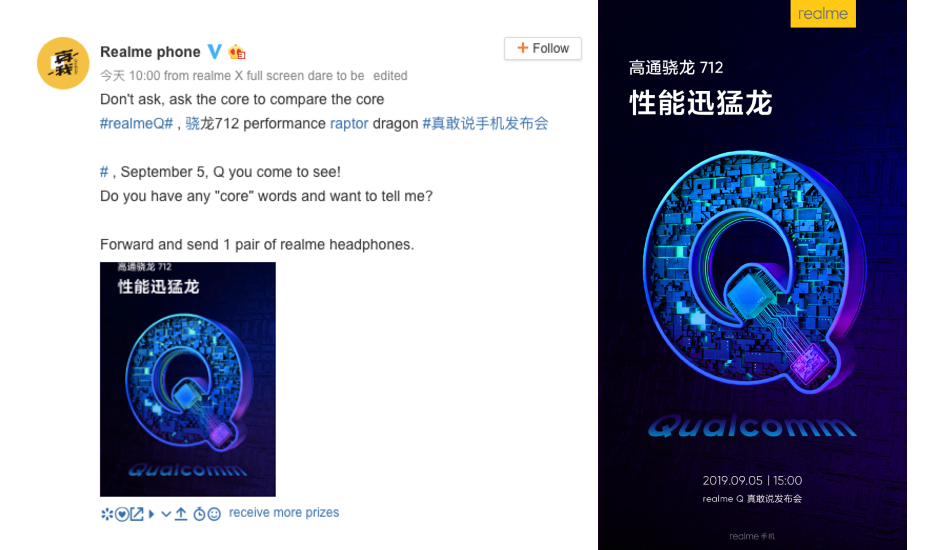 Before this, the Realme Q was teased to feature "full four-shot era" which we believe is a quad-camera setup at the back.
UPDATE: Shortly after that, Realme confirmed that the Realme Q wil feature a 48MP Quad camera setup at the back by uploading a teaser picture on Weibo through its official handle. The post reads that the Realme Q will employ a 48MP primary camera made by Sony with model numberIMX586.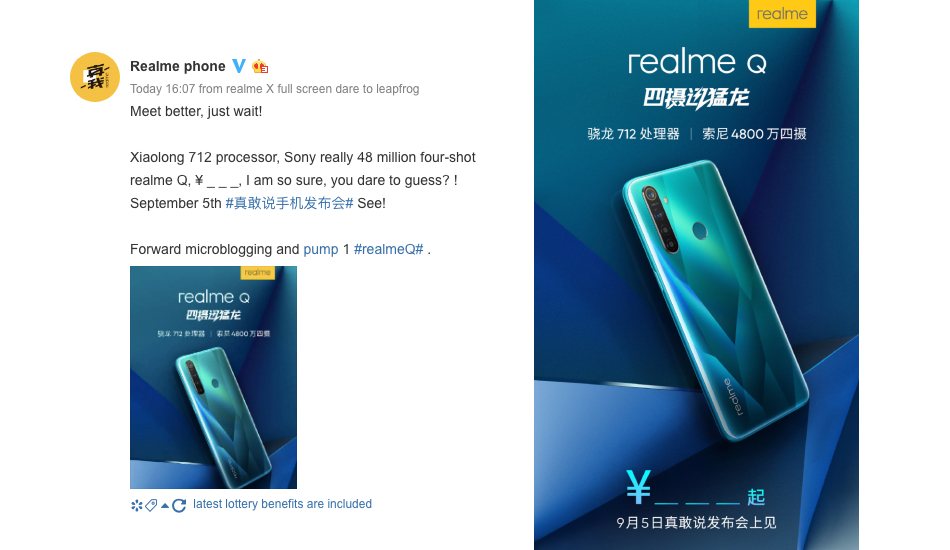 This is the third Realme smartphone to feature a 48MP primary camera after theRealme X and Realme 5 Pro featured the same main sensor. It's also likely that Realme Q could be the brand's first phone running Android Q or the first phone to come with Realme's own OS out of the box, which could be based on Android 10. This is a possibility since Realme Q's September 5 launch date comes just two days after Google is expected to roll out Android 10 to its Pixel phones.
Realme Q will be one of the four devices to be officially unveiled in China next month. The other three devices include the Realme XT, Realme 5 and Realme 5 Pro. The company has already launched the Realme 5 and Realme 5 Pro in India for starting prices of Rs 9,999 and Rs 13,999 respectively and both devices are also expected to launch across offline stores in India soon.