Last week, Google disclosed that the next version of its popular mobile OS will be called Android 10. Now a report has suggested that Android 10 will start rolling out next week, on September 3 to be precise.
The news was confirmed by Google customer support representatives who spoke to users regarding enquiries on when the Android 10 was rolling out. In separate replies to the same question, the representative replied by saying Android 10 will be rolled out to devices from September 3, reports PhoneArena who received screenshots of the conversation with Google Support.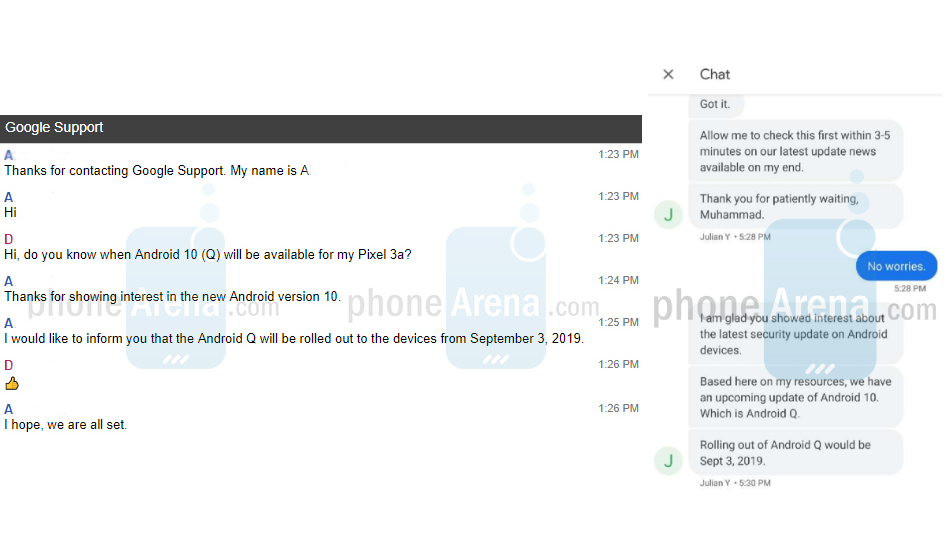 The September 3 release also reaffirms Google's tradition of releasing a new version of Android on the first business day of the week – a Monday, just ahead of IFA every year. However, since September 2 is Labor Day, Tuesday being the first business day of the week will see the release of Android 10, just three days before the IFA 2019 event in Berlin.
To recall, Android 9 Pie was released on August 6, 2018, while Android 8 Oreo started rolling out on August 21, 2017, both of the dates being Mondays. The same can be said about the release of Android 7 Nougat and Android 6 Marshmallow.
If the above news is indeed true, we'll see Google releasing Android 10 to all Pixel phones including the Pixel 3, Pixel 3 XL, Pixel 3a, Pixel 3a XL, Pixel 2, Pixel 2 XL, Pixel and Pixel XL on September 3. We could also expect other OEMs to follow, especially HMD Global who disclosed last week that the Nokia 9 PureView, Nokia 8.1 and Nokia 7.1 will get Android 10 before the end of Q4 2019.