Realme has confirmed that it's about to launch a smartphone under a new Q-series. The Realme Q-series phone is set for an unveiling on September 5 in China.
The news comes directly from Realme Chief Marketing Officer, Xu Qi Chase who shared a teaser video on Weibo about an upcoming smartphone series. Shortly after that, Realme took to Weibo to announce that a new Realme Q-series phone will be unveiled in China on September 5.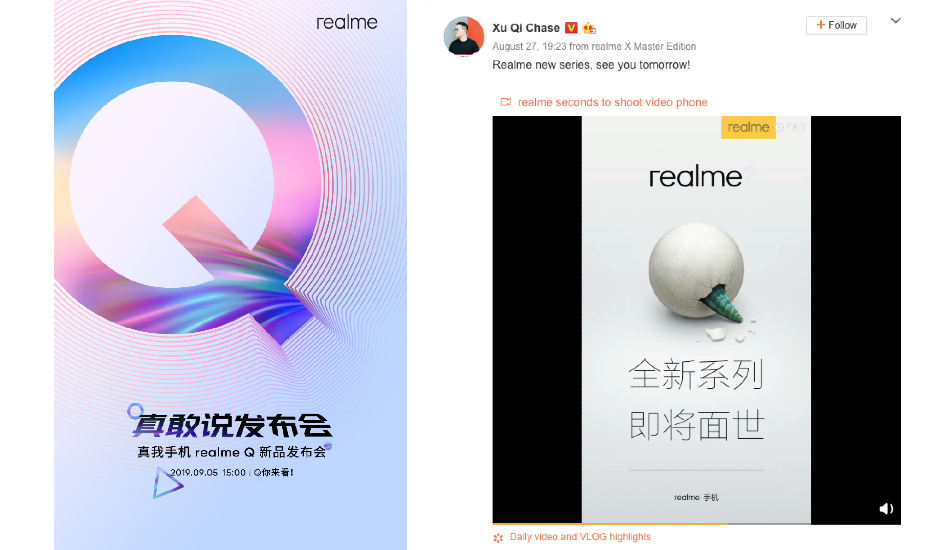 While the details of the upcoming phone are scarce at the moment, Realme did disclose that the Realme Q device will feature a "full four-shot era" which could mean that a quad-camera setup at the back. It's unclear whether the new phone will employ a 64MP camera like the Realme XT which wasofficially revealed in China yesterday.
If that's not true, we could also be looking at a 48MP Quad camera unit. There's also a possibility that Realme Q could be the brand's first phone running Android Q which was recently rebranded to Android 10 or the first phone to come with Realme's own OS out of the box, which could be based on Android 10 (Q).
The Realme Q series smartphone is expected to be one of the four devices to be officially unveiled in China next month. The other three include the Realme 5, Realme 5 Pro and Realme XT. Realme 5 and Realme 5 Pro were recently launched in India for starting prices of Rs 9,999 and Rs 13,999 respectively and are expected to debut across offline stores in India soon.