Weeks after launching the Snapdragon 730, 730G, 665 mobile platforms, Qualcomm is reportedly working on the successor to the Snapdragon 730 already which will be aptly named the Snapdragon 735. Upon its release, the Snapdragon 735 will be the fifth chipset under Qualcomm's Snapdragon 700-series after the launch of the Snapdragon 710, Snapdragon 712, Snapdragon 730 and Snapdragon 730G.
The news comes from an internal document leak which was first reported by SuggestPhone. The leak reveals that the Snapdragon 735 will be built on a 7nm process, which will be the first time for a Snapdragon 700-series. The SoC will also be the second Qualcomm chip to be built on a 7nm process, the first one having been the flagship Snapdragon 855 chipset.
The Snapdragon 735 will come with an Octa-core configuration with an unknown Kryo 4xx clocked at 2.9GHz, an unknown Kryo 4xx clocked at 2.4GHz and six Kryo 4xx cores clocked at 1.8GHz. We can expect the first two cores to be derivates of the Cortex-A76 while the six other cores could well be based on Cortex-A55.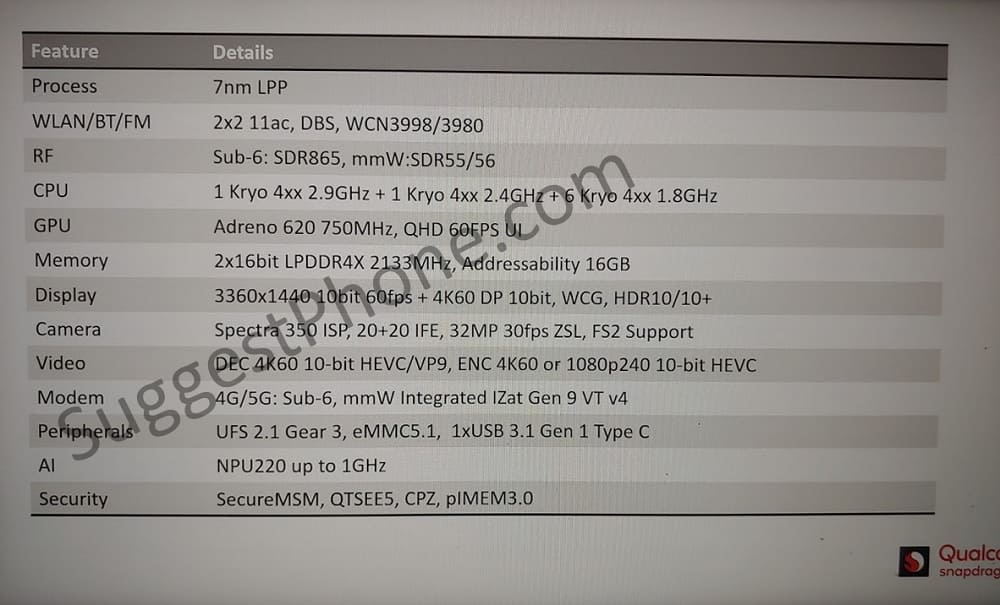 Image Source:SuggestPhone
The chipset will also include the latest Adreno 620 graphics which will be clocked at 750MHz. In contrast to this, the Adreno 618 in the SND 730 came with an 825MHz clock speed. Snapdragon 735 will also feature the new NPU220 for AI tasks clocked at 1GHz. The chipset will support displays of up to QHD (3360 X 1440 pixels) resolution and HDR10/HDR10+ standard.
Additional support could include up to 16GB of LPDDR4X RAM, up to 32MP 30fps ZSL imaging support through Spectra 350 ISP. Connectivity options could be provided by USB 3.1 Gen 1 Type C, eMMC 5.1 and UFS 2.1. We can also expect the Snapdragon 735 to come with 5G support as Qualcomm's means to introduce 5G to mid-range handsets.