Just a month after announcing the QCS400 chipsets for next-generation smart speakers, Qualcomm has introduced three new chipsets with the launch of the Snapdragon 730, Snapdragon 730G and Snapdragon 665 mobile platforms. The new SoCs will target the upper mid-range and mid-range segment of smartphones releasing in the coming months with improvements in battery, graphics and reduction in cost.
First up, the Qualcomm Snapdragon 730 chipset is the second Snapdragon 700-series processor launched this year after the 10nm Snapdragon 712 was launched earlier this year. The Snapdragon 730 packs in an Octa-core setup which combines two 2.2GHz Kryo 470 cores and six 1.8GHz Kryo 470 cores inside an 8nm-built manufacturing process. The chipset comes paired with an Adreno 618 GPU and can support Up to 8GB memory, eMMC, UFS 2.1 storage and USB 3.1 connectivity.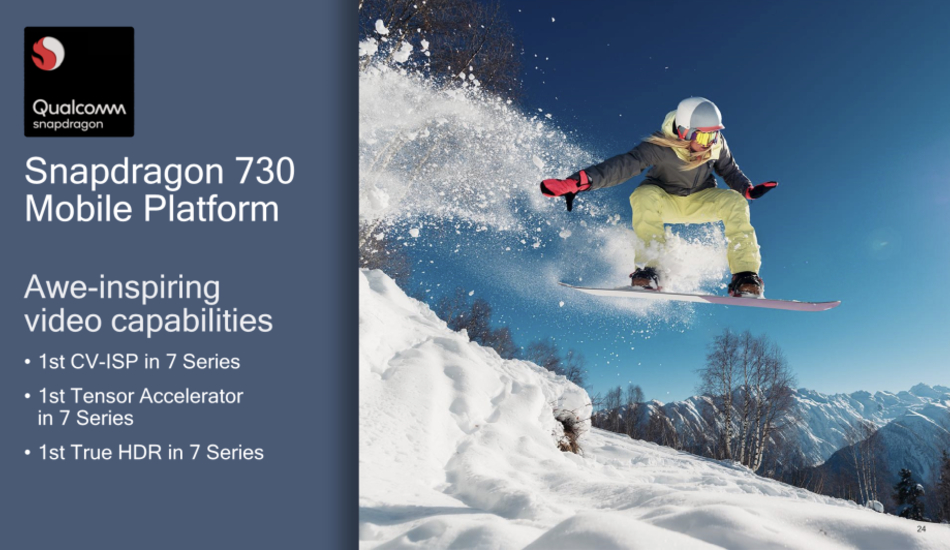 The inbuilt Spectra 350 image processor on the Snapdragon 730 will offer support for up to 192 MP single or 48 MP with MFNR and up to 22MP dual camera with 4K HDR Video support and Hybrid Autofocus. The chipset can be combined with an FHD+ display of 2520 x 1080 pixels resolution and HDR10 support.
It comes with a Snapdragon X15 LTE modem offering speeds of up to 800 Mbps on download and 150 Mbps on upload. Additionally, it comes with the Qualcomm Aqstic audio codec, aptX Adaptive audio technology, Qualcomm TrueWireless Stereo Plus, Qualcomm Hexagon 688 DSP and Qualcomm Quick Charge 4+ technology.
Qualcomm has another version of the Snapdragon 730, dedicated for gaming and is aptly named the Snapdragon 730G. While offering similar benefits to the standard Snapdragon 730, the SND 730G offers up to 15 percent faster graphics rendering over the SND 730 and up to 25 percent boost over the last generation Snapdragon 710 processor.
The Snapdragon 730G offers advanced gaming features including the ability to reduce stutter, optimise select games, HDR gaming and manage WiFi latency. It will also natively support HD super slow-mo at 960fps and will bring improvements to the camera by adding support for low power voice activation and Cinemagraph.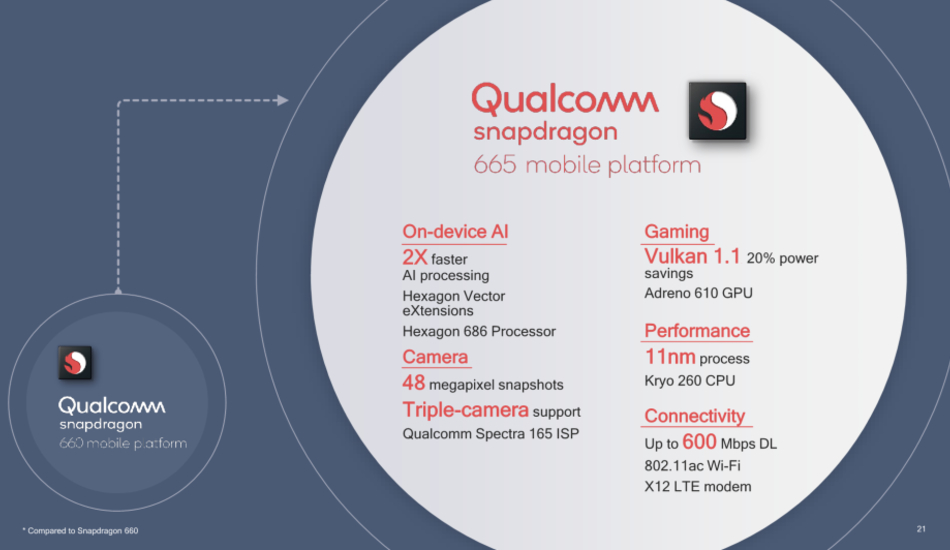 The Snapdragon 665 Mobile Platform by Qualcomm is the first follow-up to the popular Snapdragon 660 chipset which we've come to see in the past couple of years. The SoC comes with an octa-core design with four 2GHz Kryo 260 cores and four 1.8GHz Kryo 260 cores soldered onto an 11nm FinFET process. It's paired with an Adreno 610 GPU, Hexagon 686 DSP, Snapdragon X12 LTE Modem and Qualcomm Quick Charge 3.0 technology.
The camera support provided by the Snapdragon 665 offers support for up to 48 MP / up to 25 MP, MFNR, ZSL, 30 fps single camera, up to 16 MP, MFNR, ZSL, 30 fps dual camera with Hybrid Autofocus and Zero shutter lag.
Qualcomm's Snapdragon 730, Snapdragon 730G and Snapdragon 665 mobile platforms will start being available on smartphones from the start of the second half of 2019.