All flagship phones of 2018 have been running on Qualcomm's Snapdragon 845 chip except for Samsung and Huawei devices which have their own in-house chipsets. Qualcomm appears to be applying finishing touches to the successor of the SND 845 which we can tentatively call as the Snapdragon 855 as the device just popped up on benchmarking site Geekbench, setting high scores in one go.
Geekbench didn't actually reveal the model number of the upcoming Qualcomm chip and the codename only read "msmnile". The device that was benchmarked came coupled with 6GB RAM running Android 9 Pie. What made sure this was a flagship chipset is the fact that the SND 855-powered device scored 10,649 points on multi0core tests, which is similar to the what Apple's A11 Bionic cup score when it released in last year's iPhones.
In terms of single-core performance, the new Qualcomm chip only scored around 3,697 points, giving the Apple A11 chip no competition for its 4,300 score. Keeping that in mind, Apple won't be resting any bit and there's a likely chance that their A12 chip will debut with the next iPhones, with better performance than the A11 chipset.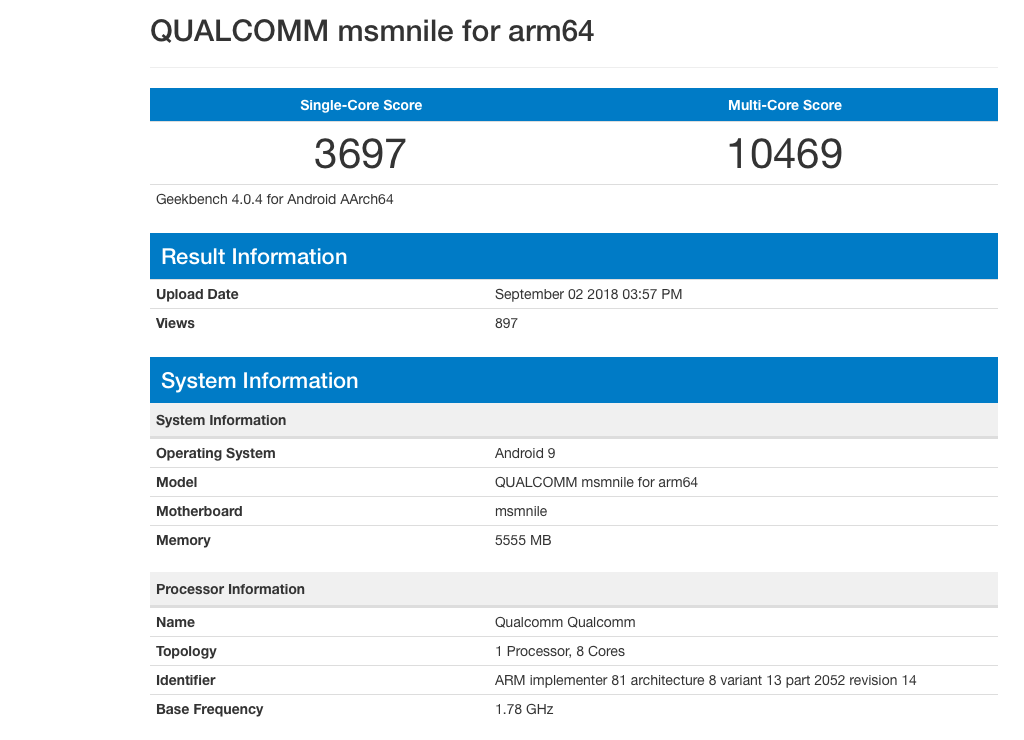 While the SND 855 that was tested in the benchmark might not have been the production model, there's no point in hoping that the Qualcomm-made SoC will be better performing than the latest Apple chip when it's announced. And then there's also the likelihood of the 'msmnile' being a chip designed to cater lightweight Windows notebooks on ARM.
The 'msmnile' chip also surfaced at the HTML5test scoring 510 points out of a total 555 through a Chrome Dev browser.