Qualcomm has displayed world's first auto stereoscopic 3D tablet at the on-going CTIA-Wireless 2012 convention which has started on May 9. At the convention, Qualcomm has demonstrated the prowess of the Snapdragon S4 MSM8690 mobile processor that runs the 3D tablet. Phandroid managed to capture a video showcasing the auto stereoscopic 3D tablet.
Qualcomm stall at the CTIA Wireless 2012 in New Orleans, USA had put a tablet for demonstration. This tablet was running the new Snapdragon S4 mobile processor and its intention was to show the 3D capabilities of the chip. As per Phandroid, it was world's first auto stereoscopic 3D tablet but it was just a prototype.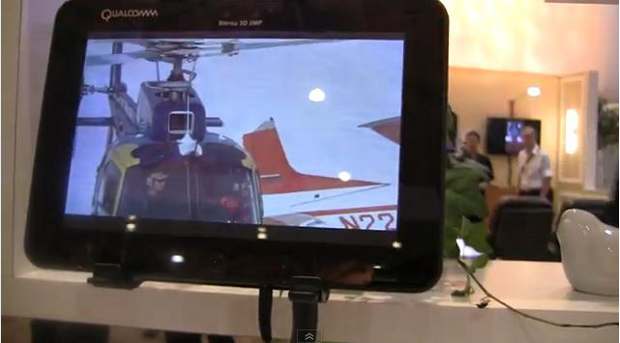 At this moment, the Nintendo 3DS offers the auto stereoscopic 3D experience using parallax barrier. A parallax barrier is a device placed in front of an image source, such as a liquid crystal display, to allow it to show a stereoscopic image without the need for the viewer to wear 3D glasses.
The technology used in the Qualcomm tablet is different from the LG Optimus Pad 3D. The difference lies in the usage of optical gear and the special glasses layer to show the real 3D depths on the display.
The Qualcomm's prototype tablet did not require any 3D glasses to be used for enjoying the 3D content. Also it was able to convert the 2D content to 3D. This prototype glasses free 3D promising tablet supported 1920×1200 pixel resolution natively. The tablet could also capture stereoscopic 3D and playback the same on the display in high definition. Even 2D videos can recording and used to playback in 3D with real-time conversion on the chipset. Apart from video, the tablet even does real-time 3D game conversion.
Qualcomm certainly has surprised several by showing the true potential of the Snapdragon S4 processor and also hint what consumers can expect in near future.