Qualcomm has launched a new device, named Tagg, which can be easily used on the collars of pets. The Tagg is the first product from Snaptracs, a newly formed, wholly owned subsidiary of Qualcomm.
The device utilises GPS and cellular triangulation technology to keep a track of your pets' movement and location. The edge that this device provides over several other competitor products is in the form of advanced flexibility that is given to the users while using this device. Users can specify an area where their pets roam and live and as soon as the pet leaves that area an alert is sent to the owner via Email and SMS. And by using their smartphones, users can also see their pets' movement in real-time through the Tagg's online tracking interface.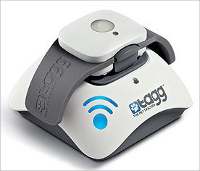 The Tagg is designed for rugged use as is completely waterproof that allows the pets to stay the way they are while being tracked too. The device has a battery life of up to 30 days so that users do not need to charge the battery often. And whenever the user is taking the pet out, they can simply press the trip button on the device to cancel the alerts.
To use the device, you have to shell out $200 (Rs 9,000) annually that includes email and SMS alerts. It would be available in the USA first from September onwards.