A month after releasing the Snapdragon 670 mobile chipset with AI capabilities, Qualcomm has now unveiled the Snapdragon Wear 3100 for the next generation wearables. The latest smartwatch SoC brings the much-needed upgrade that Wear OS watches needed – battery life.
The successor to the Snapdragon Wear 2100 is built on a low-power hierarchical system architecture which consists of a powerful quad-core A7 processor coupled with an ultra-low power co-processor and an efficient digital signal processor to boost the power of a smartwatch in addition to bringing more battery life.
To get into details, the Wear 3100 is powered by a 1.2 GHz quad-core CPU with ARM Cortex-A7 cores that were found in its predecessor. The SoC also employs the Qualcomm QCC1110 co-processor which acts as a shared power unit with better sensor, audio and display output, all of which can be handled with low power. There's also a new deep learning engine which will boast of keyword detection.
All of this means the Snapdragon Wear 3100 will be able to get at least 4 -12 hours of watch usage in contrast to the one hour of usage on the Wear 2100 chip. And of course, all of this will depend upon the battery capacity, type of display on the wearables and device usage.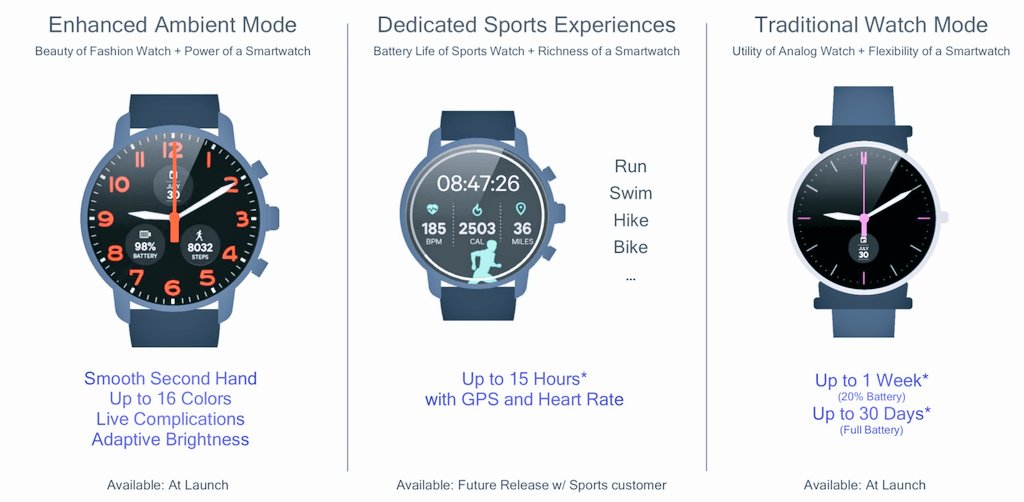 Qualcomm says that a watch with 450mAh battery will be able to offer 15 hours of continuous heart rate monitoring and GPS tracking with the new chipset and Google's new Personalised Sports Experiences on the Wear OS. The Traditional Watch Mode on Wear OS will give you a week of battery with basic watch usage.
The Wear 3100 will be able to handle 4G LTE data connections and will be able to offer 16M colour output, live complications and enhanced brightness. That with the inclusion of an Ambient mode and Wear OS will now be able to display a smoother seconds hand in a watch face.
The Snapdragon Wear 3100 will first come to next-generation luxury smartwatches with the Montblanc Sumit 2 being the first smartwatch to feature the same for a price of $900 (approx. Rs 65,000). Qualcomm has also partnered with Louis Vuitton and Fossil to deliver the first batch of smartwatches boasting of the latest chipset. The Wear 3100 will come in three versions – Bluetooth + WiFi, GPS-tethered and LTE-connected; the chipset will go live on smartwatches by the end of 2018.