Qualcomm Technologies has introduced two new quad-core mobile chipsets, named as Snapdragon 808 and Snapdragon 810. Both the chipsets support 4k video rendering, LTE Advanced and capable of 64-bit microarchitecture. The chipsets, which are set to arrive next year, are made using the 20 nm silicon fabrication process and are estimated to be faster and power-efficient.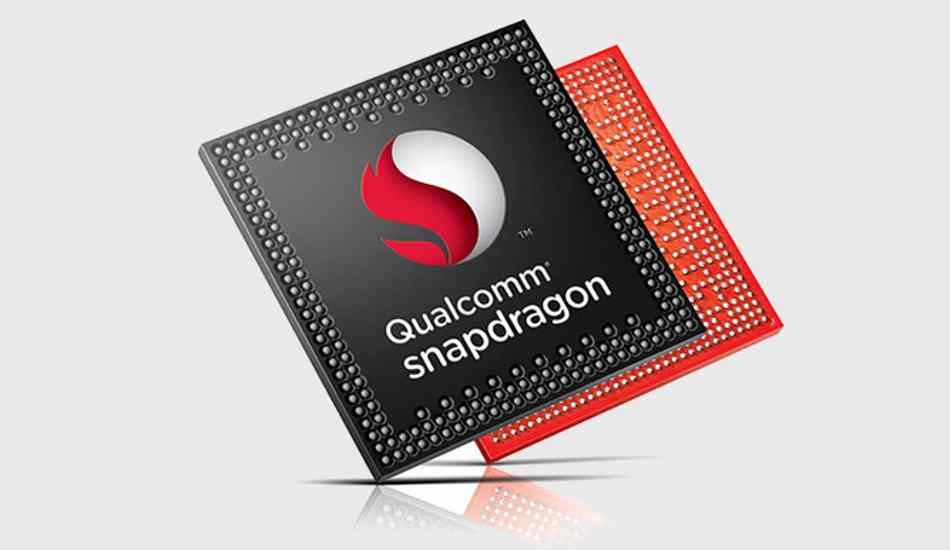 Qualcomm has integrated 64-bit ARM Cortex-A57 cores and Cortex-A53 cores to form the quad-core chipsets. Do note that these cores are not the typical Krait core since the company is yet to bring 64-bit instructions processing for them.
Qualcomm's new Snapdragon 810 is the top of the line mobile chipset promising high level graphics technologies incorporated inside. This mobile system on chip supports 64-bit micro-architecture and enable the mobile devices to support more than 4 GB RAM. Qualcomm has implemented support for high-speed LPDDR4 memory support in this chipset.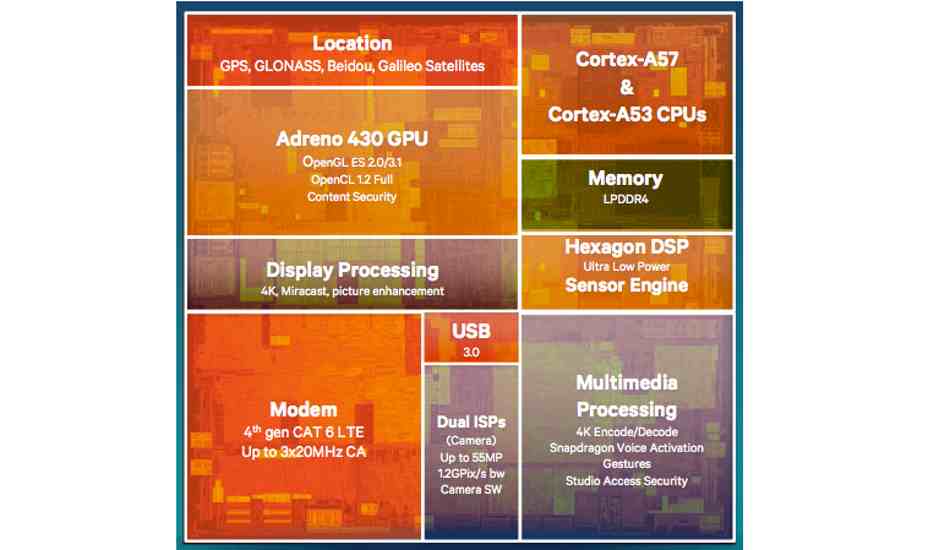 The Snapdragon 810 mobile SoC integrates the new Adreno 430 GPU graphics that supports OpenGL ES 2.0/3.1, Open CL 1.2 Full, and can easily render 4k video (3840×2160) at 30 frames per second as well as 1080p video at 120 frames per second. The Adreno 430 is expected to deliver 30 percent faster graphics performance and also drops the power consumption by 20 per cent.
Qualcomm has integrated the Qualcomm VIVE 2-stream 802.11ac with multi-user MIMO support to make the wireless networks more efficient. The Snapdragon 810 brings support for Bluetooth 4.1, Near Field Communication and Qualcomm's own location tracking core iZat.
Qualcomm has integrated the LTE model that offers support for LTE-Advanced that bolsters 3x20Mhz Carrier Aggregation to enable up to 300 Mbps speeds.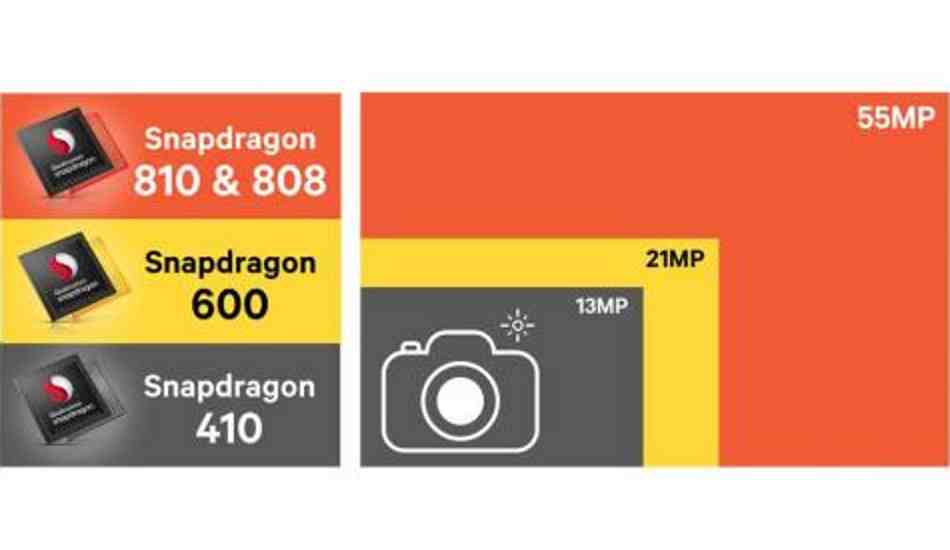 The Qualcomm Snapdragon 808 mobile chipset also integrates the LTE-Advanced and WiFi connectivity as the Snapdragon 810 chipset. Qualcomm has integrated the capability to support 2k resolution displays in Snapdragon 808 which also supports the 64-bit micro-architecture. The Snapdragon 808 is a hexa-core/six-core mobile processor packing two Cortex A57s cores and four Cortex A53 cores. This mobile chipset will support the LPDDR3 memory. Qualcomm has packed Adreno 418 GPU to support OpenGL ES 3.1 and promises 20 per cent better performance than the Adreno 330 GPU. This chipset features 12-bit dual Image Signal processors and supports 4k display via HDMI 1.4 port.
Both Snapdragon 810 and Snapdragon 808 are capable enough to support up to 55 megapixel image sensors. With this we can expect either of the mobile handset maker to reap the benefits of these chipsets.
The Qualcomm Snapdragon 810 and Snapdragon 808 are expect to go for sampling in late 2014 and first commercial products can only be expected in first half of 2015.