PVR, which is known for its multiplexes in India, today launched an application for Android, iPhone and iPad users. The application allows the users to check show times of movies, select seats and book the tickets on the go. One can also locate the nearest theatre using the map.
PVR has also completely revamped its website to make it faster and effective for its customers.
A brand new look of PVR website is designed for the consumers who prefer online medium for booking movie tickets or get an update on any movie related information. The revamped website covers the complete movie life cycle i.e. now showing, next change, coming soon along with the option of pre- booking and PVR Top 5 movie ticket sales at PVR Cinemas. PVR has also introduced the exclusive shopping cart facility to add F&B and combos to its user's cart.
The cinemas locator section of the website integrates Google maps showcasing cinema picture gallery.
Speaking on the occasion, Gautam Dutta, chief operating officer, PVR Cinemas said, "We are pleased to launch PVR Cinemas applications for Android, iPad, Tablet and Iphone users. Today's world focuses on cutting -edge technology and design , therefore, considering the dependence on technology and increasing usage of gadgets, we decided to launch the application so that it benefits our patrons. With the launch of this application our customers can book their tickets with just a few clicks of buttons on their mobile, thereby, making the lives of movie lovers easier and faster."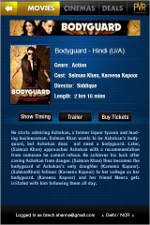 PVR Cinemas applications also offer the users to choose the desired seats from the available ones and even locate the closest cinema hall in addition to the exclusive deals and offers. Users can get information on latest and upcoming releases along with a movie synopsis, posters and even high quality trailers.
For the people who are not comfortable with mobile payment can hold tickets and pay later at the box office of the respective PVR Cinemas. The app requires you to register to PVR Cinemas but offers a Facebook Connect option as well. To avail the service, user can download the applications from Android Market and Apple iTunes store.