Proxymate, a messaging application, has made its debut on Android. The app takes automisation to a whole new level in making driving safer and stress free.
Proxymate is simply a location aware automatic messaging application designed to allow the user to stay connected to the people they wish to while driving. The application makes use of GPS coordinates and device's GPRS connection to locate the location and based on the preset rule it triggers or sends a message to a designated person or persons.
All the user needs to do is enter information relating to the person, what message and the location, the application then automatically keeps a track of the location and sends the preset message when the location is reached. The application makes use of Google mapping service to pin out the location and then uses the same location to send the message.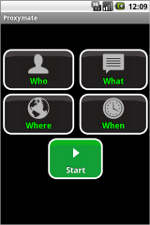 The application can be used on non GPRS enabled phones as well. Proxymate makes use of GPS coordinates to be as accurate as possible while allowing people to use it in phones who do not have GPRS enabled.
Proxymate is compatible with devices running Android OS version 2.2 and above only. Proxymate is available for free for download from the Android Market. Users can locate the application through their phones or alternatively users can also follow this link to download application.