BlackBerry has announced the upgrade of its Tablet operating system. This update, called Tablet OS v1.0.3, brings a bunch of new features to the BlackBerry PlayBook tablet, including a video chat application and BlackBerry Messenger (BBM) support via BlackBerry Bridge (a secure Bluetooth connection) apart from other features.
The Video Chat application enables video and voice over WiFi calling between BlackBerry PlayBook tablets in peer-to-peer or enterprise environments using your BlackBerry ID profile. The application allows one click calls from your Video Chat contact list, log of recent calls or simply by entering the BlackBerry ID email address of the person you want to call.
You will receive a notification pop-up when a new video call comes in, allowing you to accept the call as either a video or voice call, or decline the call. You also get a "Do Not Disturb" option to automatically ignore all incoming calls.
Some of the innovative features include the ability to see a preview of what your camera is seeing prior to placing the call to see the video feed you will be sending. You can also easily switch cameras from front to rear so your friends can see what you see.
The application will enable multitasking capabilities, where video and voice over WiFi chats can continue running in the background while you interact with other applications. You can also watch the video chat on the TV by connecting the tablet to TV using HDMI cable.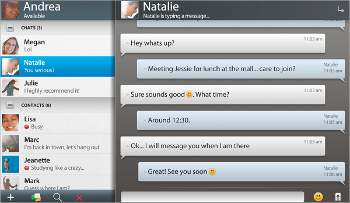 The app expands the BlackBerry Bridge experience to include BBM. BlackBerry smartphone users with BlackBerry Bridge enabled can now mirror their smartphone BBM on the PlayBook tablet's large high-resolution display over a secure Bluetooth connection. You can also edit documents using bridge function. This means that documents sitting on your BlackBerry smartphone can now be accessed via secure Bluetooth connection, edited on the BlackBerry PlayBook tablet's large high-resolution display and then saved back to your BlackBerry smartphone.
Users who purchase and activate a PlayBook tablet on or after Tuesday (May 3rd) will be automatically upgraded to v1.0.3 as part of the BlackBerry setup process. Existing PlayBook users will be presented with a software update notification on the BlackBerry PlayBook status ribbon, or they can go check for the software update at any time in the settings menu under Software Updates.
BlackBerry has also introduced a Facebook application for its Playbook tablet. The app has been integrated well with the Tablet and will support every function of Facebook and some additional design elements introduced to make user experience better. The application will be available by the end of this week along with other updates talked about here.
BlackBerry Playbook tablet has not been launched in India. However, it is available online through Homeshop18.com, Amazon.co.uk and shopyourworld.com.