Pebble Technology today announced its entry into the Indian market with its range of smartwatches including – Pebble Classic, Pebble Time, Pebble Time Steel & Pebble Time Round. The range of smartwatches will be exclusively available on Amazon.in from May 12th 2016 onwards along with Cash on Delivery option.
The range starts from Rs 5,999 for Classic, Rs 9,999 for Pebble Time, Rs 13,599 for Pebble Time Round & Rs 15,999 for Pebble Time Steel.
"The global market for wearable technology is witnessing a surge. IDC predicts 110 million wearable devices to be shipped in 2016, up by nearly 38 percent from the last year. As India continues to be at the centre of technological revolution led by smartphone penetration, there is a huge opportunity for adoption of wearable tech," the company said in a press release.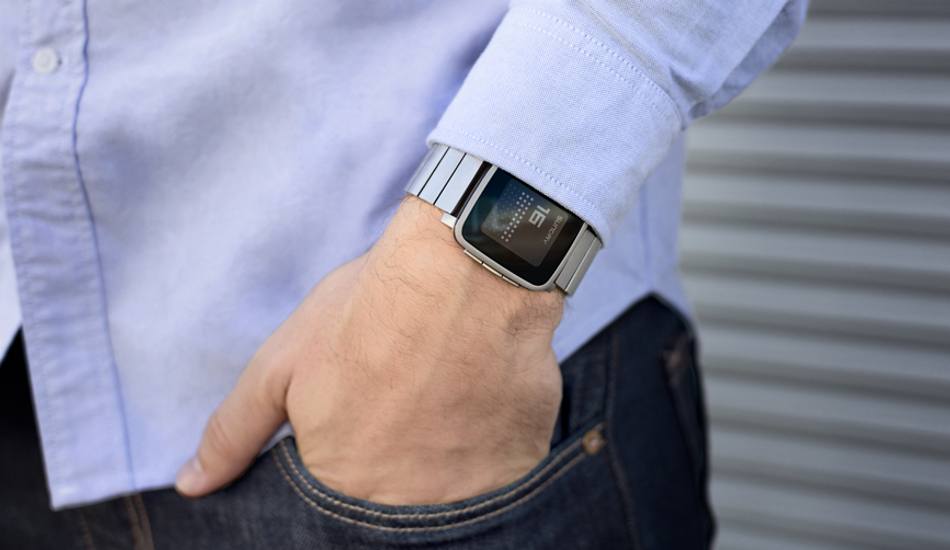 "We are extremely excited to introduce Pebble in India. Indian users have always been open to adopt new technologies especially in mobile. Hence, we see a promising future for Pebble in India. Our unique products offer amazing experience at an affordable price point to the users. In conjunction with our India launch, we are also looking at establishing a connected community of users and developers in India" added Eric Migicovsky, founder and chief executive officer, Pebble. "To reach out to users across regions we have partnered with Amazon.in for exclusive distribution of our watches".
Pebble has also introduced its health & fitness ecosystem- Pebble Health, a software update that enables non-stop activity tracking and sleep monitoring in all its smartwatches. Pebble Health features timeline, an interfacethat highlights what's important in your day so users can get things done.
The smartwatch also offers an always-on, easy-to-read, color e-paper display; They work with Android and iPhone smartphones. They also comes with Pebble app store that has a selection of over 13,000 free apps and watchfaces. The company has also launched special watchfaces for India market.
Pebble Classic
Pebble Classic is the original and uncomplicated smartwatch that comes with a 1.26-inch ePaper display- an ultra-low-powered Sharp LCD with a 144×168-pixel resolution. Once fully charged, Pebble Classic can last for 7 days. It has a motion-sensing accelerometer and Ambient Light Sensor. The waterproof smartwatch is available in five colors: Cherry Red, Jet Black, and Arctic White. It also offers basic control of music on your phone: it'll display song titles and let you pause and skip tracks. Pebble Classic is also perfectly adept at notifying you of calls, texts, emails and messages.
It is available in Red, White and Black colours and has a limited Pink version.
Pebble Time
Pebble claims to offer up to 7 day battery life. It is water resistance and has a color e-paper display, voice dictation for message replies, and a thinner, ergonomic design. The Pebble Time comes in available in Red, White and Black colours.
Pebble Time Steel
Pebble Time Steel boasts up to 10 days of battery life and personalization mode. This 10.5 mm thin smartwatch has stainless steel band. The smartwatch enables you to manage everything from notifications, calendar events, incoming calls, fitness, music playback and more. Pebble Time Steel is also water resistant up to 30 meters and has a built-in microphone for voice notes and quick replies. The Pebble Health feature tracks your steps, sleep, and helps to get personalized insights. It certainly takes care of all the business and fun stuff without users getting glued to their smartphones.
It is available in Black, Gold and Silver colours.
Pebble Time Round
Pebble Time Round is 7.5mm thin and weighs just 28 grams. As per the company, Pebble Time Round is the thinnest and lightest smartwatch in the world. It comes in two band sizes (14mm or 20mm), three finishes (Black, Silver, or Rose Gold), and a selection of leather and stainless steel bands.
Pebble Time Round features a quick-charging battery that claims to last up to two days on a single charge. The company further claims that with just 15 minutes of charging the smartwach can last a whole day.
It is available in 14MM Silver Stone and 20MM Black versions.