Music is the most loved form of entertainment in India. In fact, it is one of the most used types of services on Indian mobile networks, not counting voice and SMS. Given its popularity operators have been introducing new services to offer music to their subscribers.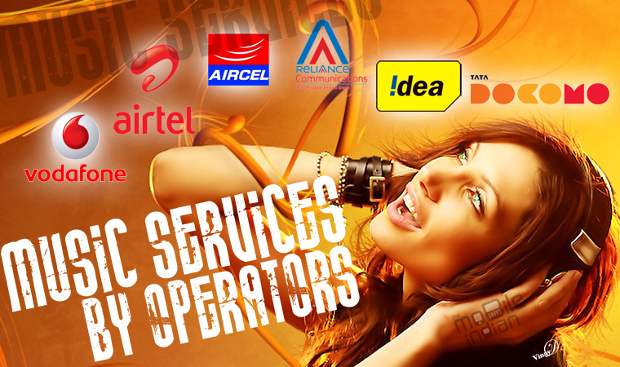 Here are five such services, which offer a wide variety of choice and are also affordable.
Airtel Mitti Ke Rang
The service is aimed at the migrant population of cities and offers them a chance to listen to music of their region. Interesting content includes like music, games, places to visit, history and more, from different regions. The service is priced at Rs 30 for 30 days and allows 45 minutes of usage each day.
One can activate the service by dialing 543340 (toll free) from an Airtel number. The big drawback of the service is that you don't have the option of trying a pack for a few days. In case you don't like a service you can dial *121# from your Airtel mobile and then follow the options. Airtel also offers Airtel Radio service priced at Rs 30 per month offering 30 minutes of music and a bank of 1.5 lakh songs. You can also listen to any city's Radio Mirchi on your Airtel phone from anywhere in the country by paying Rs 10 a week for 100 minutes of usage.
Vodafone Worldspace Radio
Vodafone is offering WorldSpace Radio (yes, it has been resurrected by a startup called Timbre Media,) for mobile users in India. The service is available across 18 circles with Vodafone customers gaining access to over 100,000 songs across 10 channels. A monthly rental of Rs 30 will be charged offering 300 minutes of free usage. After 300 minutes, the user can get a top-up of Rs 7, which will provide 70 minutes of free listening.
Vodafone customers can activate this service by calling 58000 (toll free number) or SMS 'ACT Wradio' to 111 (also toll free) or USSD on *514*580#. Upon activation, when you dial 58000, you are greeted with a Hindi IVR welcoming you to the service and listing the options for various channels. You can choose from a variety of songs in different genres and languages ranging from romance and ghazals to even dance-hits. If you disconnect and redial 58000, you are taken back to the song you were previously listening to, or you can press a number to reach a specific menu option. You can choose from among five channels by dialing 0.
Reliance Simply Music Pack
Reliance offers a choice of three packs which allow you to download full length music, caller tunes, ringtones, minutes Mobile Radio and unlimited web streaming. The packs are priced at Rs 25 and Rs 99, both valid for 30 days, but offering different numbers of downloads and minutes of usage. For example, with the Rs 25 pack you get four callertunes, three ringtones, 3 full length tracks, 45 minutes of mobile radio and unlimited web streaming. The Rs 99 pack offers ten each of songs, caller tunes, and ring tones, as well as 100 minutes of mobile radio. There is also a Rs 149 pack valid for 3 months. You can also win a chance to attend exclusive Reliance Indian and international music concerts across India, and even meet the renowned artistes backstage if you subscribe to a pack.
Idea Big Radio
Listen to your favorite city's radio station on your mobile. So if you're a Delhite currently working in Bangalore, don't worry! You can listen to your favorite Delhi RJ only on Idea Big Mobile Radio. The service is ad free. Users can dial 557557 (toll free) to activate the service. The charges for the service are Rs 30 for 30 days for 300 minutes of music. Fall-back packs are also available for Rs 25, Rs 20, Rs 15 and Rs 5, and one gets charged Rs 2 per day for a proportionate number of free minutes. Similar services are also available with Airtel, Reliance and Tata Docomo. Idea Cellular does not offer any other music service for full length songs, although it does offer ringtone packs.
Aircel Pocket Music International
For lovers of international music, Aircel has launched a new service that allows you to download five full length tracks for Rs 5. Aircel subscribers can visit the WAP portal music.pocketinternet.in on their mobile handset and download full songs of their favourite international artists. The cost of the song is very low by any standard and it is therefore a worthwhile service. Aircel also has a music streaming service like the others and it is priced at Rs 30 for 30 days with 100 minutes of songs.
Aircel also has a MusicConnect service. Subscribers can listen to music they choose, set dialer tunes and download music to their mobile phones. They can also update their friends on the music they are listening to and share playlists online on social networking sites such as Facebook and Twitter. The service covers music in 19 languages under categories such as Bollywood, international, regional, devotional etc. The subscription charges are Rs 30 per month for 100 minutes through voice; while streaming via mobile internet is free of cost.
Tata Docomo Endless Music
Tata Docomo Endless Music service is powered by Hungama.com and offers endless music for the entire day, and users can also download ringtones of their favorite songs by paying a subscription charge of Rs 2 per day with no extra cost. At an additional Re 1 per day customers can set the downloaded tunes as call me tunes (CMTs). To avail this service, customers have to dial the IVR short code 59090 (toll free). The service is auto renewable on a daily basis. Tata Docomo also offers other music related services like web radio (an international version is also there,) and a 24 hours music service at the rate of 2 paise per second or Rs 30 per month.