Opera has today announced the launch of its new version of Opera browser. The latest update brings a host of new features including snapshot editing tool, a search pop-up tool, integrated social messengers and support for watching online videos via VR headsets.
To start with the new snapshot tools, users will be able to share screenshots with emojis, selfies and more. There are new editing tools including pencil, arrow, blur, zoom, emojis and a selfie camera. Through selfie camera, one can click photos and add them on the screenshot. One can launch this feature directly from the sidebar via the camera icon.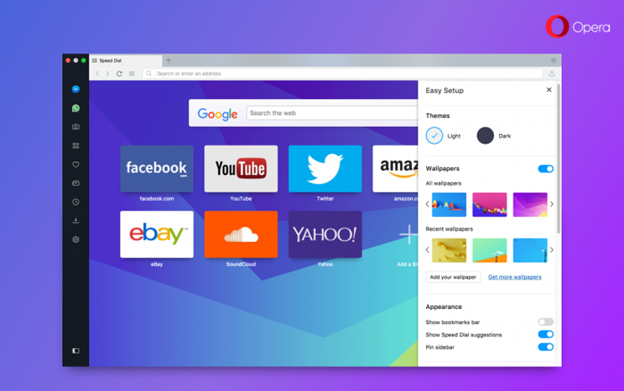 Further, Opera browser comes loaded with built-in VR 360 video player. Through this, users will be able to watch 360-degree videos on most virtual reality headsets like HTC Vive and Oculus Rift. The brand has also customized start page with a new Easy Setup. The menu basically provides a shortcut to commonly-configured features for quick browser adjustments. The setup also helps users to import bookmarks and data from their old browser as well.
The company has also added search pop-up tool that can convert 32 units of measurements, 14 time zones and 37 currencies, including five newly added ones such as Ukrainian hryvnia, Kazakhstani Tenge, Georgian Lari, Egyptian pound and Belarusian ruble. Users can simply select the price and get it converted to their default or selected unit, currency or time zone immediately.
You might also like this:
'); // ]]>
You can now have quick access to the web version of popular messengers like Facebook Messenger, WhatsApp, and Telegram. The messenger shortcuts will sit on browser's sidebar and you can also pin the messenger tab for even easier multitasking. One can also simply pick and drop images from anywhere to a messenger's icon on the sidebar, to share photos. There is also a menu button which will enable you to log out from messengers inside the browser itself.