OnePlus has just launched the OnePlus 7 and OnePlus 7 Pro, offering different features for some differences in prices. The higher-end OnePlus 7 Pro comes with a price tag of Rs 48,999, while the standard OnePlus 7 is priced at Rs 32,999. Though OnePlus didn't have any competitor in the same price segment when launching the One Plus 6T last year, this time things have changed.
For around the same price, Google just recently launched the Pixel 3a XL which starts at Rs 44,999 in India. The Pixel 3a XL stands in between the Pixel 3a and Pixel 3 offering a mid-range chipset with a top-of-the-line camera unit and Google's cleanest version of Android 9 Pie. Can Google's new mid-ranger match up to latest OnePlus flagship killer? Let's find out.
Hardware:
Let's get over one plain detail. In an ideal comparison, the Google Pixel 3a XL is a mid-ranger and OnePlus launches its devices with flagship-grade hardware and the 7 Pro is no different. For the sake of this comparison, we're taking the 6GB RAM and 128GB storage variant of the OnePlus 7 Pro. Other than the configuration, the OnePlus device will be powered by the latest Qualcomm Snapdragon 855 processor with Adreno 640 GPU.
The Pixel 3a XL, on the other hand, is powered by Qualcomm's mid-range Snapdragon 670 SoC with Adreno 615 graphics. Furthermore, the Pixel device comes with only 4GB of RAM and 64GB of internal storage. While day-to-day will be optimally smooth, the Pixel 3a isn't the best alternative when gaming and heavy multitasking comes in question. The Snapdragon 855 steals all the spotlight for offering the smoothest performance no matter what you throw at it.
Winner: OnePlus 7 Pro
Display:
The Pixel 3a XL comes with a 6.0-inch Full HD+ OLED display with a screen resolution of 2,160 x 1080 pixels along with 402ppi pixel density, 18:9 aspect ratio. The front panel doesn't earn any brownie points as Google has not gone for any means to trim down the bezels on the phone though we appreciate the absence of the deep notch that was present on the pixel 3 XL. However, for a phone that costs you almost half a lakh in India, we'd have appreciated lesser bezel at the top and bottom which would have increased the meagre screen-to-body ratio of 76.3 percent.
In this regard, OnePlus has pulled something that puts any Pixel phone to shame. The OnePlus 7 Pro comes loaded with a fullscreen display that is curved and devoid of any notch or hole-punch nonsense. The phone features a 6.67-inch Fluid AMOLED display with 1440×3120 pixels resolution, 516ppi pixel density, and 90Hz maximum refresh rate. To help with the full-screen experience, OnePlus has employed a motorised pop-up at the top of the phone and a thinner chin at the bottom. This means users get an extended screen to make use of, one which has a screen-to-body ratio of 88.0 percent.
Winner: OnePlus 7 Pro, by all means.
Design:
The OnePlus 7 Pro will succeed on the design language of the OnePlus 6T and will feature a glass body with a gradient pattern at the back. While OnePlus has released a bunch of colour variants of its smartphones, this time, the OnePlus 7 Pro will come in Mirror Grey, Almond and Nebula Blue. The colours look nothing like any other smartphone's back panel and pose as eye candies. The glass design also speaks of the premium nature of the device.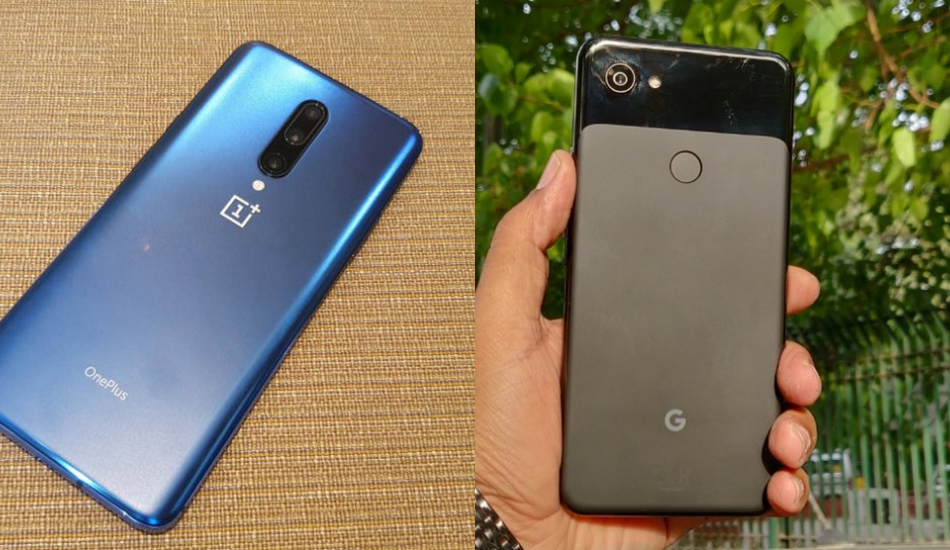 While the Pixel 3a XL retains a two-tone finish at the back like the one on the Pixel 3 XL, it has done so in a polycarbonate body, unlike the glass back on older Pixels. While several smartphones still use a plastic body at the back, it's disappointing to see a phone costing over Rs 40K to come with such a material, though we acknowledge that plastic won't shatter as much as glass.
Winner: OnePlus 7 Pro for design, Pixel 3a XL for long-term durability
Software:
If you've known Google, you'd have also come to know that Google Pixels always give the best Android experience and rightly so. The Pixel 3a XL, like the Pixel 3 lineup, runs on a pure stock version on Android 9 Pie with all the Google services. Google has also announced that the device will get three years of confirmed Android OS updates along with regular security patches. Additional features include Digital Wellbeing, Active Edge which lets users squeeze the phone to activate Google Assistant and DND mode. Though the Pixel runs on a mid-powered processor, the stock Android experience more than makes up for it on a day-to-day use scheme.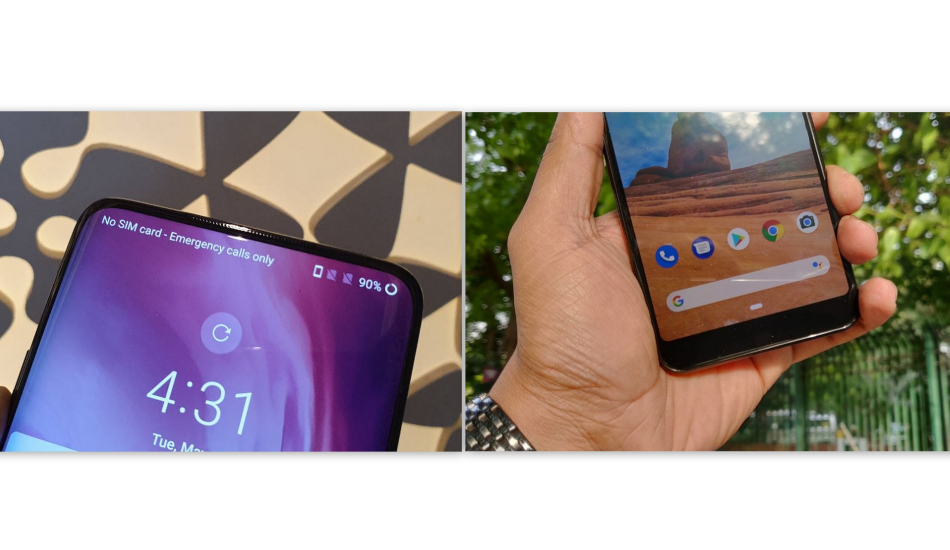 A lot of people would be of the opinion that that OxygenOS on OnePlus phone is like Google's Android. I won't completely agree with that. While the software does scream of stock Android, OnePlus 7 Pro certainly runs on the company's skin on top of Android, though we'd say it'll be the lightest one around. Users can theme around with OxygenOS with different accent colours and there's a new navigation system which doesn't use a bar on the bottom but instead let you swipe from any side of the screen. Both features are now in the process to be added to Google's own upcoming OS – Android Q and OnePlus already has it. However, if you're someone who wants the latest software to run on their phone, you'll rather want the Google Pixel 3a.
Winner: Google Pixel 3a XL
Camera:
For the camera, the OnePlus 7 Pro will be equipped with a triple rear camera set up at the back, with one 48-megapixel Sony IMX586 sensor with f/1.6 aperture, and OIS, 16-megapixel wide-angle secondary sensor with f/2.2 aperture and 117 degree field of view, and a third 8-megapixel sensor with f/2.4 aperture, 78mm focal length, and a 3x optical zoom. The phone will have Phase Detection Autofocus, Laser Autofocus, Continuous Autofocus, and a dual LED flash.For the front, the phone has a 16-megapixel Sony IMX471 pop-up camera with f/2.0 aperture, Electronic Image Stabilization (EIS), and 1080p video recording support at 30fps.
While an extra set of wide-angle and telephoto cameras is appreciated, it's the Pixel 3a that gives an all-around performance. Google has employed a single 12.2-megapixel rear camera on the front of the Pixel 3a which is the same unit that is present on the Pixel 3. The main camera comes with 1.4-micron pixel size, autofocus with dual pixel phase detection, optical and electronic image stabilization, f/1.8 aperture and LED flash. For the front, there is an 8-megapixel selfie shooter with 1.12-micron pixel size, f/2.0 aperture and 84-degree viewing angle. We got the chance to click some photos with the new Pixel 3a XL and was quite impressed with the performance. The camera on the Pixel 3a is also enabled with a Night mode which gives good low-light pictures which can be compared with any high-end flagships, including Google's own.
Winner: Google Pixel 3a XL
Battery:
The Pixel 3a XL equips a 3,700mAh battery and Google has bundled an 18W fast charger with the device. The OnePlus 7 Pro offers a slightly larger 4000mAh power unit but it comes with a much faster 30W Warp Charge technology which will juice up your phone significantly faster.
Winner: OnePlus 7 Pro
Verdict:
| | | |
| --- | --- | --- |
| | Google Pixel 3a XL | OnePlus 7 Pro |
| Processor | Snapdragon 670 | Snapdragon 855 |
| Display | 6.0-inch FHD+ OLED, 2,160 x 1080 pixels | 6.64-inch QHD+ AMOLED, 90 Hz |
| Memory | 4GB RAM, 64GB storage | 6GB RAM, 128GB storage |
| Camera | Rear: 12.2MP, dual flash; Front: 8MP wide-angle lens | Rear: 48MP primary + 8MP telephoto + 16MP ultra-wide-angle; Front: 16MP pop-up selfie camera |
| Battery | 3,700mAh | 4,000mAh |
| OS | Android 9 Pie | Android 9 Pie with Oxygen OS |
| Price | Rs 44,999 | Rs 48,999 |
In an ideal situation, it'll be foolish to not opt for the OnePlus 7 Pro for Rs 48,999. For just 60 percent of the price of a flagship, OnePlus is offering a smooth performance with the top-of-the-line Snapdragon 855 chip, a fullscreen experience with no notch/punch-hole nonsense, premium design language with attractive colours, stock-ish Android, a good combination of cameras and a fast charging battery to top it all. The 7 Pro checks all the boxes for when you're in the market for a phone that does it all. But and yes, there's a but. But, if Google's version of Android is what pleases you and you need the best overall camera there is in the market, look no further; as the Pixel 3a XL might just be the phone for you.