OnePlus has finally launched its latest smartphone, the OnePlus 5 for the Indian market on June 22. Since its launch, the smartphone has marred by many controversies, including the delivery of a
faulty unit

of the device, which had no volume controls. Now it is learned that the OnePlus 5 units sold in India are manufactured by Oppo Mobiles in India, in latter's manufacturing unit in Uttar Pradesh.
According to a
report

, the retail box of the OnePlus 5 shows that the smartphone is manufactured by OnePlus Mobiles India Private Limited at its Noida-based factory. To recall, OnePlus partnered with Foxconn to manufacture its smartphone in India and the brand hoped that it will sell most of the smartphones which are locally manufactured in India by the end of 2017. However, it seems the brand has chosen Oppo for the manufacturing of the latest smartphone.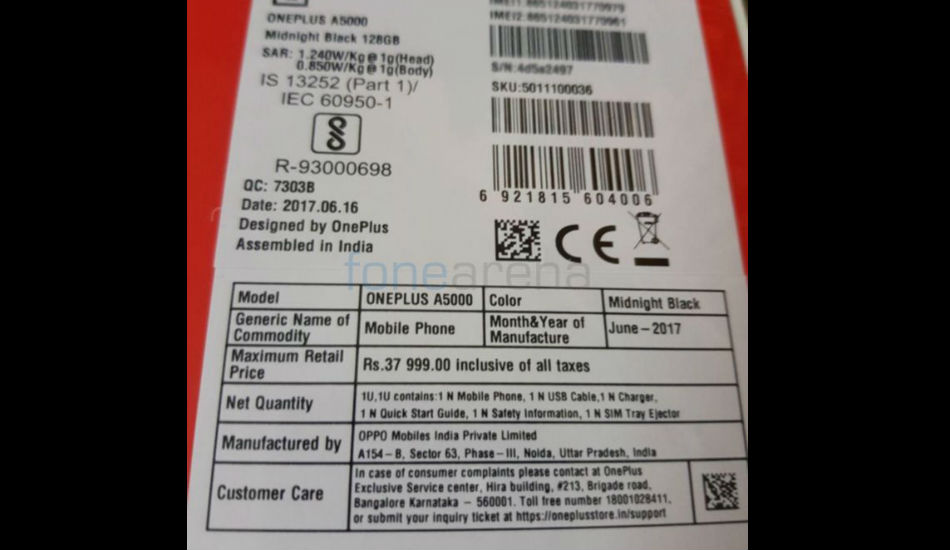 Interestingly, OnePlus, Oppo and Vivo have the same parent company known as BBK Electronics. Further, OnePlus is said to be a sub-brand of Oppo Mobiles and even its co-founder Pete Lau, was earlier Vice President of Oppo.
This clears some air about
Oppo's connection with OnePlus

smartphones. OnePlus shares a deep connection with Oppo when it comes to the design of a smartphone. The original OnePlus was identical to Oppo Find 7 and same is the case of the OnePlus 5. The device has fairly borrowed the design from the recently-launched Oppo R11. What's more intruding is the fact that both the smartphones feature a similar type of dual-camera setup, which further raises many eyebrows. This is an odd move for a company whose main motto is to "never settle" and still it is settling with a design that is already somebody else's trademark.
The brand has surrounded with numerous controversies as well. It has been accused of
manipulating benchmark

results with the latest flagship device. As per a report by XDA Developers, "Every single review of the OnePlus 5 that contains a benchmark is using misleading results, as OnePlus provided reviewers with a device that cheats on benchmarks." Further, they have also claimed that this time the cheating mechanism is "blatant and aimed at maximising the device's performance."
The camera performance, which it has heavily advertised, can be seen as a disappointing one if we go by
numerous reviews

on the internet. For The Verge, the biggest complaint about the One Plus 5 is the price, which, it claims, takes it beyond the mid-range it has bossed for so long to the top range, where the 'value' proposition may not be as valuable. The Verge also helpfully tells you that the One Plus 5 and its three cameras offer you 52 megapixels of shot taking power, a view that might fall flat when faced with the Wired's disappointment with the camera.