Jump Games, a publisher of mobile entertainment apps and games, has launched an official game of movie 'Bodyguard'. The mobile game is an adventurous action game based on the movie. The players will don the role of Salman Khan from Bodyguard and play as Lovely Singh, the loyal bodyguard who protects a business tycoon's daughter Divya Rana, the character played by Kareena Kapoor.
The player's task is to find the business tycoon's enemies and punish them as they plan to harm Divya. The game has easy to use controls and allows the players to submit their scores on the leader board to compare it with other players as well.
Game modes
Story Mode: The story mode will let the player play through the entire story of the game. The levels will progress in a predefined manner, with the next level being unlocked when the previous is completed successfully.
Arcade Mode: Arcade mode will allow the player to play the levels unlocked in the story mode. This mode of play is only to see how many points can be collected. The players will be able to select and fight various enemies. This mode will be locked initially and the levels will be available only when the player completes them successfully in the story mode.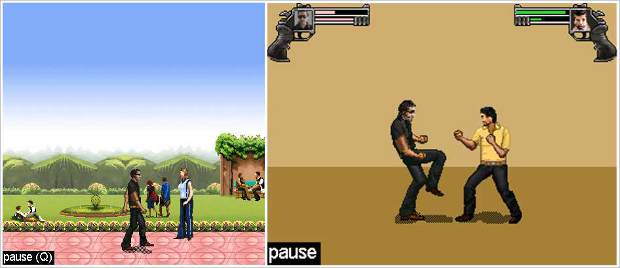 Rohit Sharma, chief executive officer, Reliance Entertainment (parent company of Jump Games), Digital Business, said, "Action games with their exciting and fast paced gameplay are amongst the most popular genres in mobile gaming. With Bodyguard, Jump Games has created a game keeping the essence of the movie intact. We have witnessed a positive trend of convergence of movies and gaming in the last one year. Gaming offers great reach to the desired audience and works as a great marketing tool. The Bodyguard game is launched both in India and in global markets."
Jump Games is part of Reliance Entertainment, which is part of the multi-national conglomerate Reliance Group. They have also released official games for Shingham, ZNMD, Kites (starring Hrithik Roshan), 3 Idiots etc.
To download the game, you will need to go to WAP site of your operator. For example, Airtel users can go to Airtel Live, Vodafone users can go to Vodafone Live. It can also be downloaded from jumpgames.com. The prices vary based on the operators.